Founded in 2011, South Side Projections presents films at locations across Chicago's south side to foster conversation about complex social and political issues. At many screenings, we enlist scholars, activists, and filmmakers to lead discussions, while other screenings offer opportunities to present seldom-seen films of historical and artistic value to the communities of Chicago's south side. In all cases we are a springboard to a deeper understanding of our communities and the broader world.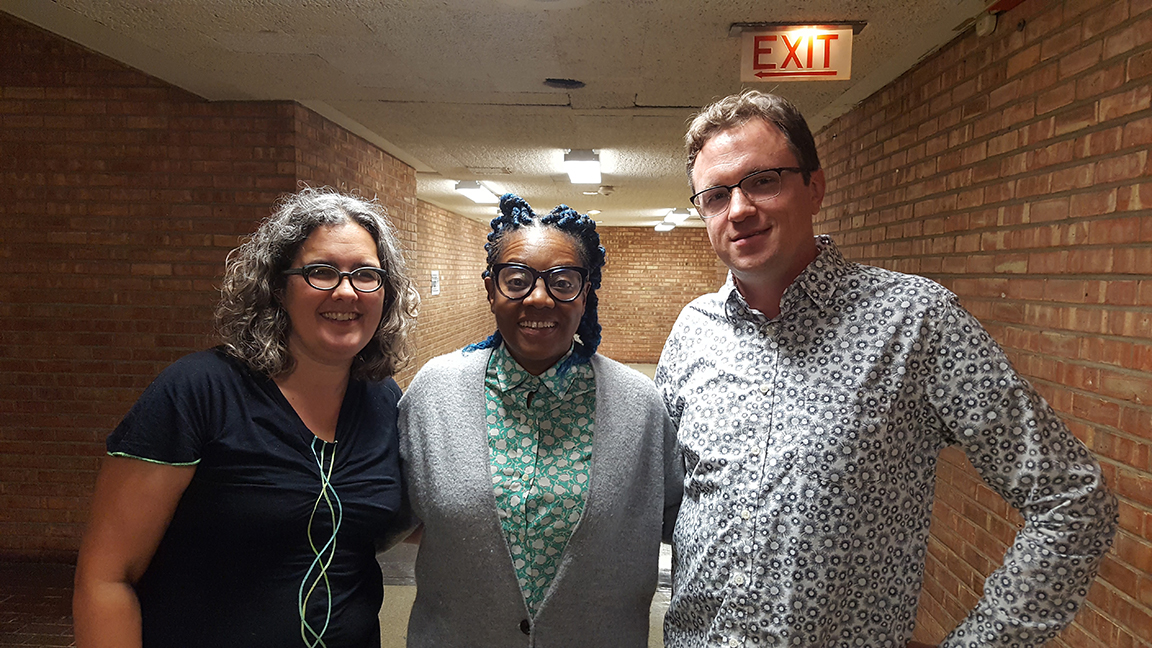 Michael W. Phillips Jr.
Founder and Executive Director
Mike was the founding director of the Black Cinema House, the founding film programmer of the Chicago International Movies & Music Festival, the cinematheque and videotheque manager of Facets Multi-media, and the last director of the Bank of America Cinema. He has served on juries for the Chicago International Children's Film Festival, the Reeling Film Festival, the Chicago Underground Film Festival, and the Chicago International Film Festival. He also makes performance videos and found-footage music videos for Chicago-based musicians.
Amir George
Programming Consultant
Amir George is an award winning filmmaker based in Chicago. George is a film programmer at True/False Film Fest and Chicago International Film Festival. George is the co-founder of the touring film series Black Radical Imagination. As an artist, George creates spiritual stories, juxtaposing sound and image into an experience of non-linear perception. George's films have screened at institutions and film festivals including Schomburg Center for Research in Black Culture, Institute of Contemporary Arts, London, Anthology Film Archives, Glasgow School of Art, Museum of Contemporary Art Chicago, Ann Arbor Film Festival, Trinidad and Tobago International Film Festival, BlackStar Film Festival, Afrikana Film Festival, and Camden International Film Festival, among others.
Latesha Dickerson
Family Programs Coordinator
Latesha is an educator and filmmaker with two decades of experience working with Chicago's public schools. She has worked as a middle and high school science teacher. She also supported teachers and administrators in Chicago's public schools as an instructional coach and consultant. She earned a bachelor's degree in biology from Chicago State University and holds a master's degree in education policy and management from the Harvard Graduate School of Education. Latesha works as a filmmaker and is currently producing a documentary about black educators in the Chicago Public Schools.
Riss Ballard
Social Media Coordinator
Riss is a media studies student with a MA degree from the University of Chicago. While film is definitely one of her interests, her main focus is on digital games and mechanics in storytelling. She has worked for Day One RI, a nonprofit sexual violence resource center in Rhode Island, in the organization's Prevention department. She is extremely passionate about working at the community level, especially in the areas of art and education. Upon moving to Chicago, she began working at the University's Film Studies Center, which has only strengthened her appreciation for film programming. In January, she joined South Side Projections to run its social media accounts, and she hopes to help spread the mission and events of the organization. In the future she'd like to get a PhD and go on to teach film and video game studies at the collegiate level.
Amina Norman-Hawkins
Amina is Executive Director of the Chicago Hip-Hop Initiative, a hip-hop community empowerment collaborative; and Co-Founder of Chicago Hip-Hop Heritage Month, an officially recognized annual observance since 2003 that celebrates Chicago's local hip-hop arts and community throughout the month of July. She's also a respected emcee, poet, and founding member of Urbanized Music. She has performed at and taken part in hip-hop festivals and conferences across the country. Selected in 2010 to serve as a United States Cultural Envoy, Amina spent two weeks in leading a team of three hip-hop artists from Chicago as they toured Cote d'Ivoire. She teaches a course in hip-hop history at Columbia College Chicago and lectures, writes, and performs hip-hop and spoken word around the country.

Edward E. Crouse
Eddy is a writer, musician, programmer, and actor who lives in Pilsen. His critical work has appeared in Film Comment, The Village Voice, Sight and Sound, and Time Out Chicago. He is co-author of the monograph Curtis Harrington: Cinema on the Edge and the producer of Wilkie Duran Monte: Toxic Chemical Victim, a short environmental advocacy documentary by Minnie Solomon Crouse. As an actor, he appeared in Cameron Gibson and Kyle Schlie's By Way of Today, a week-long live-stream soap opera on ACRE TV. He currently programs at the Nightingale Cinema.

Sherry Williams
Sherry is the founder and president of the Bronzeville/Black Chicagoan Historical Society. She is an active member of the Afro American Genealogical and Historical Society, a Steering Committee member of the Southside Arts and Humanities Network-Civic Knowledge Project at University of Chicago, a member of the Stephen A. Douglas Association, an appointed Commissioner of the Illinois Amistad Commission, and an institutional member of the Chicago Cultural Alliance. She developed the Chicago Freedom Tours in 2010 and founded the Earl and Beverly Johnson Bird Oasis at the Pullman State Historic Site and the African Heritage Garden and Migratory Bird Oasis at the Stephen Douglas Tomb.
Peter Kuttner
Peter has worked in mainstream and alternative media in Chicago for over 50 years. Since leaving a staff job in public television in 1967, he has worked on documentary films about social justice to complement his political activism and community organizing. As a member of Newsreel and then at Kartemquin Films since 1972, and now at the Community Television Network since 2014, he continues to work on projects addressing the complex issues facing America's poor and working people. A longtime union member, Kuttner has a long résumé as a camera technician on major motion pictures. Having served many terms as an elected representative on IATSE Local 600's governing board, he now moderates an online rank-and-file forum dealing with union issues. He is a member of the Workers Rights Board of Jobs with Justice Chicago, a coalition of labor, faith, and community organizations.
Rebecca Zorach
Rebecca is the Mary Jane Crowe Professor in Art and Art History at Northwestern University. She has been a visiting faculty member at Yale University, the École des Hautes Études in Sciences Sociales, and Williams College. She is the author and/or editor of several books and articles in a variety of fields, including the French Renaissance, the Black Arts Movement, and contemporary socially engaged art. She is a member of Feel Tank Chicago, a member of the board of directors of the South Side Community Art Center, and the co-founder of Never the Same.
Monty Dobson
Lemont is an archaeologist, public historian and producer of documentary films. Dobson holds a PhD in archaeology and an MA in history and is a Research Assistant Professor at Central Michigan University. He is the executive producer and creator of the internationally distributed public television series America from the Ground Up.