Othello
Liz White / 1980 / 115 min. / color / 16mm
Logan Center for the Arts, 915 E. 60th St.
Saturday, June 1, 2019 at 7pm
Presented by South Side Projections, the Committee on Theatre and Performance Studies, the Center for the Study of Race, Politics and Culture, and the Reva and David Logan Center for the Arts
Post-screening discussion with Honey Crawford (UChicago), James Vincent Meredith (Steppenwolf Theatre Company), and Ron OJ Parson (Court Theatre)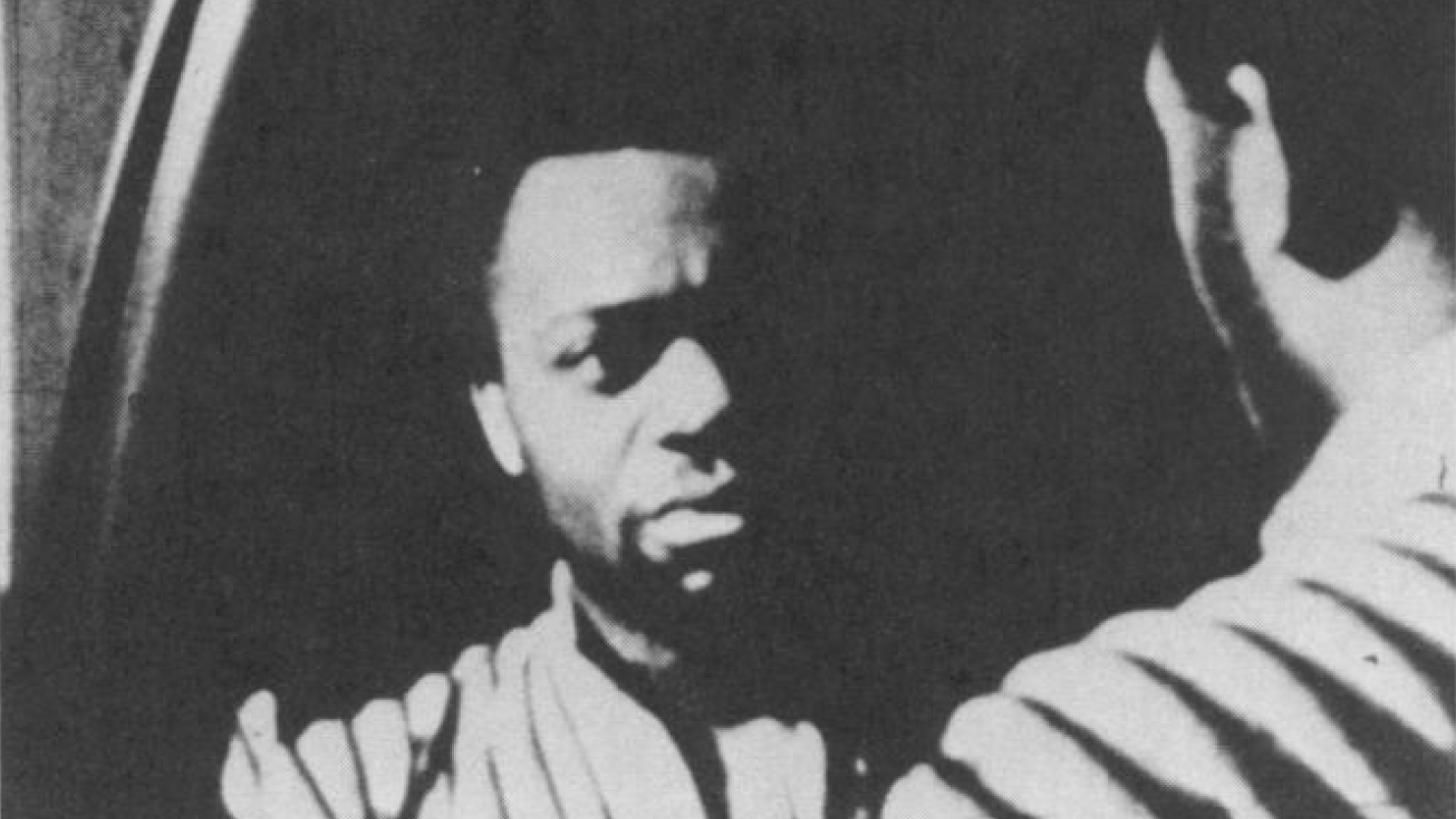 Chicago premiere!
Liz White's Othello was the first film version of Shakespeare's tragedy that starred a Black man and remains the only Shakespearean film directed by a Black woman. The film adapts Shakespeare's tragedy to the 1960s, using an all-Black cast and crew (including music by Hugh Masekela) to reimagine the play in a way that addressed colorism in the Black community, Afrocentrism, and the Black Power Movement. Yaphet Kotto plays an African Othello whose dark skin and traditional dress set him apart from the light-skinned and sophisticated New Yorkers whose social world he enters. Scholar Peter Donaldson argues that this essential change makes the play more viable as tragedy. "Because Othello is close, ethnically, to the rest of the cast without really being one of them, the eruption of mistrust and rage is especially poignant: in rejecting Othello, the 'Venetians' are rejecting a part of themselves, a link to their origins; and in falling prey to suspicion, Othello too denies the claims of consanguinity and disavows a shared history." And Courtney Lehmann argues that "by focusing on the (mis)treatment of women in Othello, White links their struggle to the double displacement of black women within the burgeoning Civil Rights Movement." Filmed between 1962 and 1966 at White's Shearer Summer Theatre at Oak Bluffs, a historic Black community on Martha's Vineyard, but unseen until 1980 and seldom thereafter, White's radical reimagining of Shakespeare's text is essential viewing.
Othello courtesy of the Reserve Film and Video Collection of The New York Public Library for the Performing Arts. Othello has been preserved with funding from the Carnegie Corporation of New York.
Honey Crawford is a Harper-Schmidt Fellow and a Collegiate Assistant Professor in the Committee on Theater & Performance Studies (TAPS) at the University of Chicago. She specializes in Afro Brazilian cultural performance as both a scholar and practitioner. She earned her PhD in theatre studies from Cornell University in 2017 where she was also a New York Public Humanities Fellow. She is currently working on Negra Demais! Overwhelming Performances of Afro Brazilian Femininity, a book that positions women-driven spectacles of black consciousness in the 20th-21st century against prevalent discourse on the black diaspora and performance studies. She served as the dramaturgical researcher for Lynn Nottage's adaptation of Vinicius de Moraes' Orfeu da Conceição as interpreted by Marcel Camus' 1959 film adaptation Orfeu Negro. This forthcoming Broadway production will partner Nottage with director George C. Wolfe in a musical retelling of the Greek classic embedded in the favelas of Rio de Janeiro during carnival. Crawford's previous research on Boalian applied theatre methods and the São Paulo's hip hop scene have been published in Black Camera Journal and La Verdad Reader of Hip Hop Latinidades.
James Vincent Meredith is an ensemble member at Steppenwolf Theatre. He received critical acclaim as John Proctor in The Crucible, his first role as an ensemble member. At Steppenwolf he has also appeared in Clybourne Park, The Hot L Baltimore, The Bluest Eye (also Off-Broadway at the New Victory Theater), The Pain and the Itch, Carter's Way and Superior Donuts. Other Chicagoland appearances include Mr. Rickey Calls a Meeting at Lookingglass Theatre and Much Ado About Nothing and Othello at Chicago Shakespeare Theater, as well as work at About Face Theatre, Writer's Theatre, Goodman Theatre, Drury Lane Theatre in Oakbrook, and Piven Theatre Workshop, where he is a member of the company ensemble.
Ron OJ Parson is a graduate of the University of Michigan's professional theatre program. He is a Resident Artist at Court Theatre, co-founder and former artistic director of the Onyx Theatre Ensemble, and co-founder of the Beyond the Stage Theatre Project. Ron is a company member of TimeLine Theatre, and associate artist at Writers Theatre and Teatro Vista. He has directed Ma Rainey's Black Bottom at Writers Theatre, SWEAT at Goodman Theater, and many plays at Court Theatre, including Fences, Gem of the Ocean, Seven Guitars, Ma Rainey's Black Bottom, The Piano Lesson, and Jitney by August Wilson; The Mountaintop by Katori Hall; Waiting for Godot by Samuel Beckett; Sizwe Banzi Is Dead by Athol Fugard, John Kani, and Winston Ntshona; Blues for an Alabama Sky and Flyin' West by Pearl Cleage; Home by Samm-Art Williams; Wait Until Dark by Frederick Knott; The First Breeze of Summer by Leslie Lee; and the musical Five Guys Named Moe. Ron has also worked with dozens of other theaters in the Chicago area and across the country and North America. Ron is a member of SAG-AFTRA, SDC, and Actors Equity.