Men of Bronze
William Miles / 1977 / USA / 60 min.
DuSable Museum of African American History, 740 E. 56th Pl.
Thursday, December 6, 2018 at 7pm
Free admission
Presented by South Side Projections and the DuSable Museum of African American History.
Post-screening discussion with jazz historian Howard Mandel and Roosevelt University professor emeritus Christopher Reed.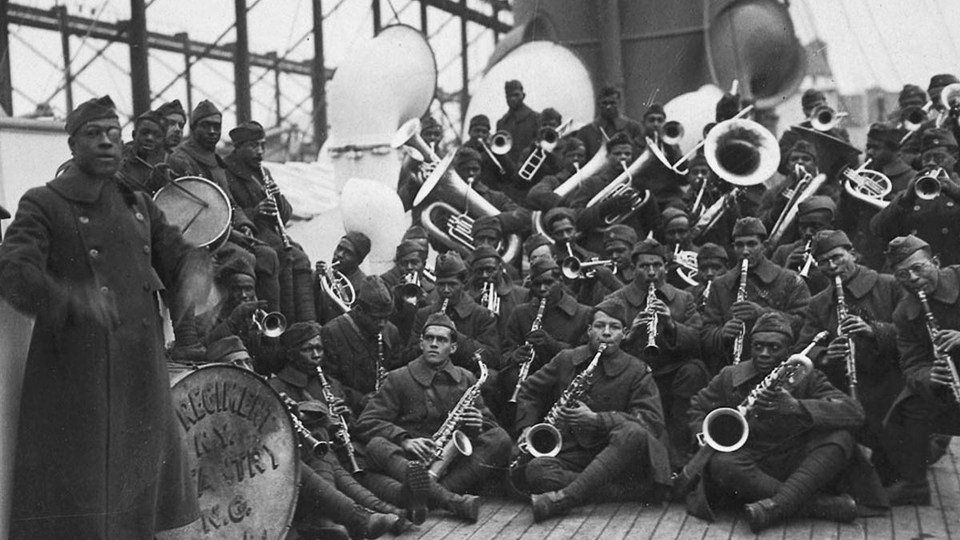 In conjunction with the DuSable Museum's permanent exhibition Clearing a Path for Democracy: Citizen Soldiers of the Illinois Fighting 8th, the DuSable Museum and South Side Projections present a screening of William Miles's documentary Men of Bronze. The film is the definitive story of another black regiment in World War I, the 369th U.S. combat regiment from New York, known as the "Harlem Hellfighters," who served with the French army in World War I and kickstarted Europe's obsession with jazz through the performances of their regimental band. The film uses photographs, interviews with veterans, and footage from the French and American national Archives to recount the saga of the Harlem Hellfighters, offering an inspiring tribute to these unsung heroes and an unforgettable look at World War I.
Christopher Reed is Professor Emeritus of History at Roosevelt University and author of The Depression Comes to the South Side: Protest and Politics in the Black Metropolis, 1930-1933 (2011), The Rise of Chicago's Black Metropolis, 1920-1929 (2011), All the World Is Here!: The Black Presence at White City (2000), and several other works.
Howard Mandel is a jazz historian, critic, and educator. He's the author of Future Jazz (1999) and Miles Ornette Cecil: Jazz Beyond Jazz (2008), the editor of The Illustrated History of Jazz and Blues (2005), the former editor of DownBeat, and the president of the Jazz Journalists Association. He recently returned from three decades in New York to his hometown of Chicago, where he serves on the board of the Jazz Institute of Chicago.