Family Saturday: Animation by Local Legends
Lillian Somersaulter-Moats & J. P. Somersaulter / 1975-1990 / USA / 45 min.
Reva and David Logan Center for the Arts, 915 E. 60th St.
Sat, Feb 3, 2018, 3pm
Co-presented by the Reva and David Logan Center for the Arts.
Films courtesy of Chicago Film Archives.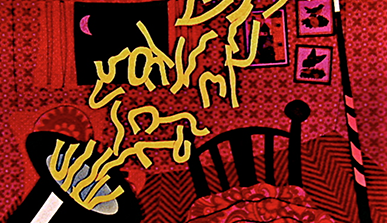 This month's Family Saturday theme at the Logan Center is "South Side Legends," and although Chicago-area filmmakers Lillian Somersaulter-Moats and J. P. Somersaulter were not exactly south siders (although Downers Grove is technically south of zero), their work is so amazing that they should be legendary.
Between 1973 and 1991, they produced more than twenty animated short films for children and adults. Working under the name Pajon Arts, the duo developed an idiosyncratic style of image-making that used different techniques, from additive line drawings to stop-motion collages to watercolor celluloid animations. Featuring original stories alongside beloved fairy tales, the films in this program highlight both their beautiful animations and their exploration of creativity.
One of their first children's films, Spooky Boo's and Room Noodles (1976, 7.5 min.) is an animated lesson about fear of the dark. Faced with dark-in-your-room monsters, scary sounds, and other things that go bump in the night, a child learns to use her imagination to banish the monsters. In The Magic World of Whiselphasoon (1975, 13 min.), a boy named Leander uses his imagination to supply the townspeople with stories, ideas, and solutions to problems—until the evil and literal-minded King demands the use of Leander's imagination for himself. The surreal Yo Yo the Clone, Too (1980, 4 min.) shows a man performing a series of increasingly strange yo-yo tricks, including producing a clone of the yo-yoist himself. Much of their work was devoted to adapting beloved fairy tales, and their gorgeous take on Rumpelstiltskin (1981, 12 min.) shows them at their best, using beautiful watercolor animations to tell the classic story of a miller who boasts to the king that his daughter can spin straw into gold. Finally, demonstrating that talent is sometimes hereditary, Avery Coonley Schoolhorse (1990, 3 min.), which was directed, animated, and narrated by the eight-year-old son of Lillian Somersaulter Moats, tells the story of a seahorse who attends Avery Coonley School in Downers Grove.