Barbara Hammer: Vital Signs
Barbara Hammer / USA / 1973-1991 / 70 min. / 16mm
Nightingale Cinema, 1084 N. Milwaukee Ave.
Fri, Feb 16, 2018, 7pm
$7-$10 admission
Co-presented by the Nightingale, the Counter Cinema/Counter Media Project at the Center for the Study of Gender and Sexuality, and the Reva and David Logan Center for the Arts.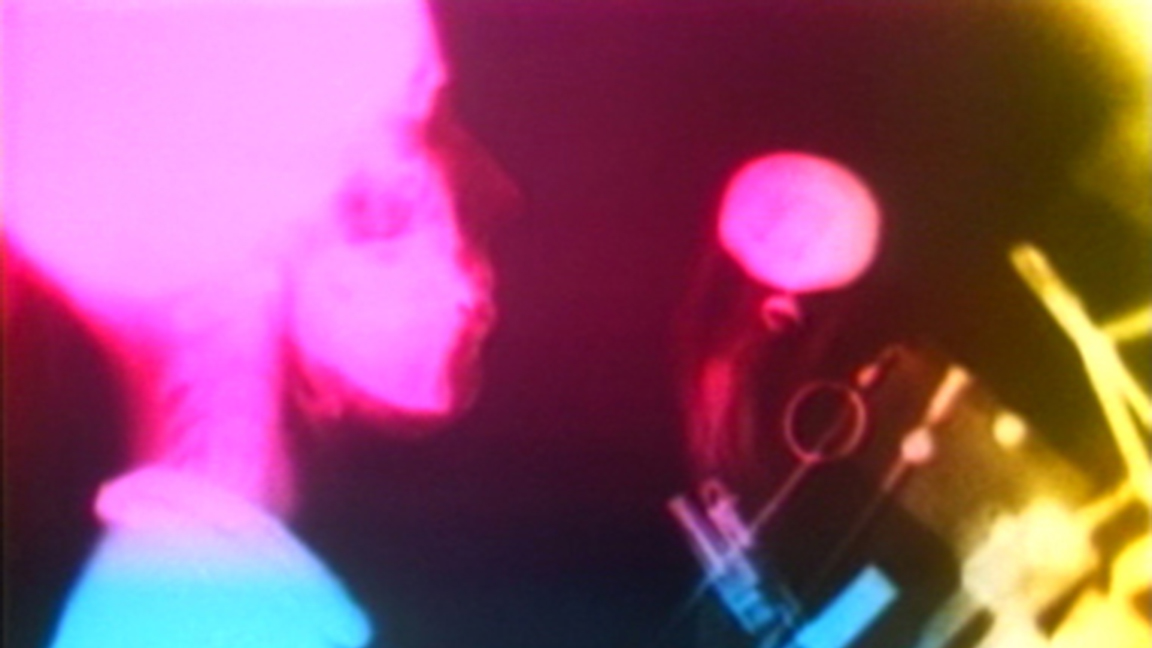 Barbara Hammer needs no introduction. A pioneer of queer cinema, Hammer has been an active filmmaker for over four decades, directing more than 80 experimental films and documentaries. In 2010 the Museum of Modern Art presented a month-long retrospective of her work, and she was the recipient of a Guggenheim Fellowship in 2013. In mid-February, we honor Hammer with a two-night celebration, the first major retrospective of her work in Chicago in more than 20 years. This retrospective screening is a survey of her remarkable output from the 1970s until the 1990s. Program curated by Kathleen Sachs.
Psychosynthesis (1975, 8 min., 16mm): "The sub-personalities of me as baby, athlete, witch and artist are synthesized in this film of superimpositions, intensities, and color layers coming together through the powers of film." – BH
Sisters! (1973, 8 min., 16mm): "A celebration and collage of lesbians, including footage of the Women's International Day march in SF and joyous dancing from the last night of the second Lesbian Conference where Family of Woman played; as well as images of women doing all types of traditional 'men's' work." – Canyon Cinema
Still Point (1989, 8 min., 16mm): "Still Point whirls around a point of centeredness as four screens of home and homelessness, travel and weather, architecture and sports signify the constant movement and haste of late twentieth century life. 'At the still point of the turning world, that's where the dance is,' wrote T.S. Eliot in Burnt Norton, the Four Quartets. Hammer seeks a point of quiet from which all else transiently moves." – Canyon Cinema
Endangered (1988, 16 min., 16mm): "It is against the background of these debates (the demise of avant-garde film) that Barbara Hammer made Endangered, a reflection on the threatened tradition of filmmaking and the independent filmmaker. Hammer's formal invention and manipulation of film through post-production effects created by optical printing become the means for developing new filmic metaphors. Endangered is a compelling expression of the unique power of celluloid and the filmmaking process. Hammer does not hide behind the process of filmmaking – in Endangered we see her making the film. In her hands, the transformation of film into a poetic and avant-garde art form comes about through the direct manipulation of celluloid." – John Hanhardt, 1989 Whitney Museum Exhibition Catalogue
Optic Nerve (1985, 16 min., 16mm): "Barbara Hammer's Optic Nerve is a powerful personal reflection on family and aging. Hammer employs filmed footage which, through optical printing and editing, is layered and manipulated to create a compelling meditation on her visit to her grandmother in a nursing home. The sense of sight becomes a constantly evolving process of reseeing images retrieved from the past and fused into the eternal present of the projected image. Hammer has lent a new voice to the long tradition of personal meditation in the avant-garde of the American independent cinema." – John Hanhardt, Biennial Exhibition Catalogue, Whitney Museum of American Art, New York, 1987
Vital Signs (1991, 9 min., 16mm): "The film employs images and text to intertwine Western constructions of death that place death far away from home in a seldom visited cemetery with Hammer's personal interactions with a skeleton, clips from Renais'Hiroshima, Mon Amour, text from Foucault's Birth of a Clinic and scenes from a hospital intensive care unit." – Canyon Cinema
Sanctus (1990, 19 min, 16mm): "In her most recent films, Endangered and Sanctus, Barbara has addressed the co-fragility of both human existence and the film emulsion, the artist's raw material onto which she creates images. I have just recently screened the completed print of Sanctus, and I was overwhelmed by it. The film is visually exquisite, and replete with symbolic meaning. She has transformed 'found footage'—scientific x-ray films from the 1950s—into a lyrical journey, transforming this raw material into a celebration of the body as temple." – Jon Gartenberg, Asst. Curator of Film, Museum of Modern Art, NY
On Saturday, February 17 at 7pm, we're presenting the Chicago premiere of Hammer's latest film, Welcome to This House (2015, 79 min, DCP), a feature documentary on the homes and loves of poet Elizabeth Bishop (1911-1979). Hammer will appear via Skype to discuss the film with Jennifer Wild, associate professor in the University of Chicago's Department of Cinema and Media Studies and Department of Romance Languages and Literatures.
"Barbara Hammer is the Grand Dame, the mother—no, the Fairy Godmother—of lesbian, experimental cinema…. Hammer's film language, life, and sexuality are adventures into uncharted territory." — Women of Vision: Histories in Feminist Film and Video
"I choose film and video as a medium to make the invisible, visible. Anyone can be left out of history. I am compelled to reveal and celebrate marginalized peoples whose stories have not been told." — Barbara Hammer