The Holy Outlaw
1970 / USA / 58 min. / 16mm
Br. David Darst Center, 2834 S. Normal Ave.
Sunday, April 30, 2017 at 4pm
Free admission
Panel discussion with Rosalie Riegle, Bill Sell, and Thom Clark.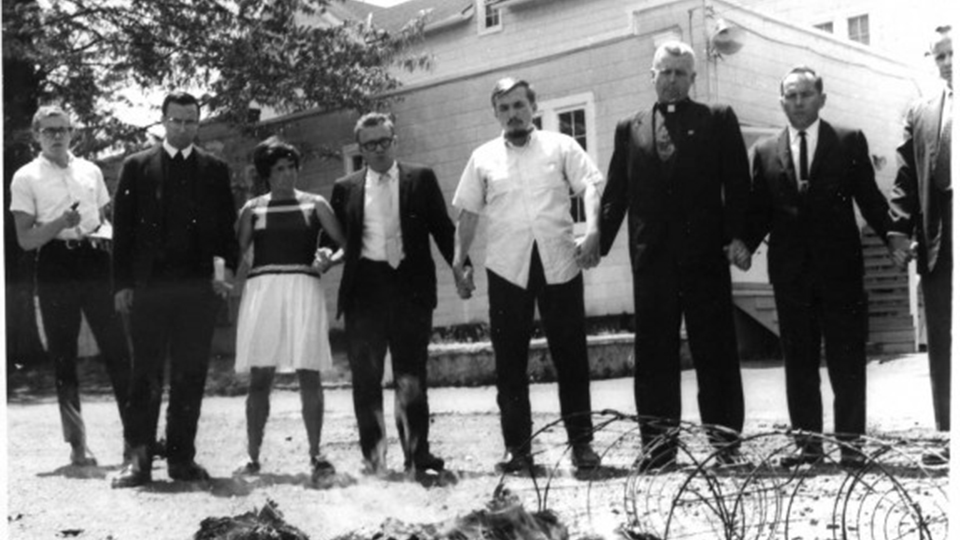 To commemorate the one-year anniversary of the death of Father Daniel Berrigan, South Side Projections and the Br. David Darst Center present a rare screening of the 1970 public television documentary The Holy Outlaw (58 min., 16mm courtesy of the Reserve Film and Video Collection of The New York Public Library for the Performing Arts).
Berrigan, a Jesuit priest, was one of the Catonsville Nine, a group of Catholic activists who broke into the draft board office of Catonsville, Maryland in May 1968, stole hundreds of draft cards, burned them, and waited to be arrested. After being sentenced to four years in prison, Berrigan went underground, evading the FBI for several months. While in hiding, he delivered sermons and speeches and appeared in Lee Lockwood's documentary, which was broadcast on National Educational Television a month after he was apprehended. The film also contains interviews with Howard Zinn, members of the Milwaukee 14, theologians, and other activists.
The screening takes place at the Br. David Darst Center, which was named in honor of another member of the Catonsville Nine, and the post-screening panel discussion includes author Rosalie Riegle along with Thom Clark and Bill Sell—the latter two who participated in actions to destroy draft board records in Evanston and Milwaukee, respectively.
Panelists
Thom Clark is co-host of the weekly Live from the Heartland radio show on Loyola's WLUW 88.7 FM. He is on the steering committee of Network 49, an independent political organization of the 49th Ward in Rogers Park. He was president & co-founder of the Community Media Workshop (now Public Narrative) and taught in the graduate journalism program at Columbia College Chicago. Thom hosted a weekly Community Media & You CAN TV cable show for eight years and co-hosted the weekly WNUA radio show City Voices for 15 years. On April 29, 1971, Thom and three colleagues poured blood on 500 draft board records in Evanston, Illinois. They successfully defended themselves in federal court, gaining acquittals from a jury on three counts and later winning the fourth conspiracy count on appeal.
Rosalie Riegle is a retired academic, a grandmother of seven, and an oral historian with an abiding interest in the Catholic Worker movement. Her latest books explore nonviolent direct action against war and militarism and include several narrators who, like the late Fr. Dan Berrigan, were imprisoned during the Vietnam war for following a conscience that yelled an anguished no.
Bill Sell received Master's degrees in philosophy and theology from Catholic University of America. His interests are drawn to environmental concerns and racism, particularly in public transportation. A lifelong street protester for civil rights and antiwar efforts, Bill has long admired Dorothy Day and the Milwaukee Catholic Worker. In 1968, he was involved in the planning and execution of the Milwaukee 14, the first Midwest draft file destruction.
Co-Sponsor
The Brother David Darst Center is a social justice education center located in Bridgeport. Founded in 2002 as a ministry of the De LaSalle Christian Brothers, the Darst Center is unique in providing opportunities for youth and young adults to see more clearly the faces pushed to the margins of our society. In addition to gaining greater awareness of others, participating youth and young adults are challenged to respond to the many needs of our world as discovered and explored through Darst Center programs. It is our hope that, through participation in Darst Center programs, young people feel inspired to respond to the many needs of the world around them.