Stations of the Elevated
Manfred Kirchheimer / 1981 / USA / 45 min. / DVD
Hyde Park Art Center, 5020 S. Cornell Ave.
Sunday, October 8, 2017 at 1:30pm
Free admission
Presented by South Side Projections and Hyde Park Art Center
Post-screening discussion with graffiti legend Gabriel "Flash" Carasquillo Jr.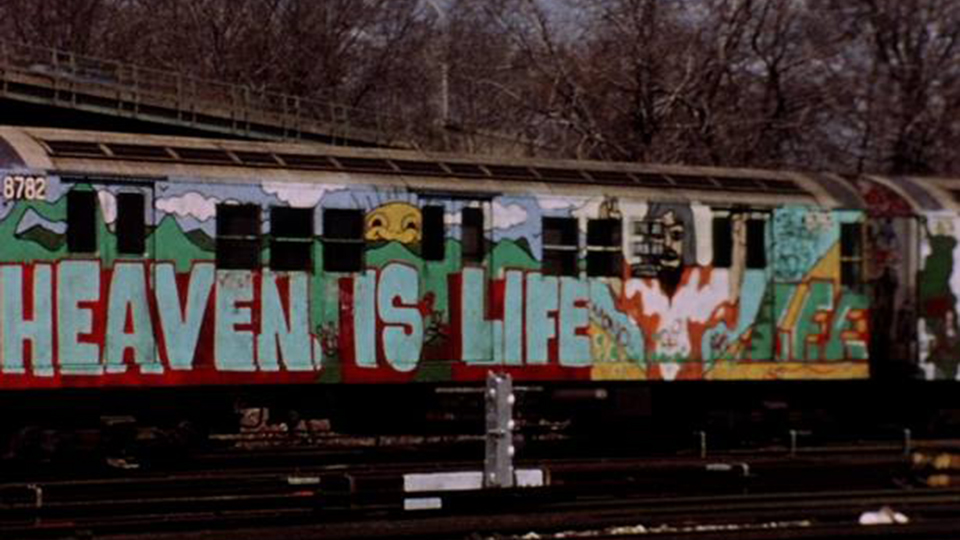 South Side Projections and the Hyde Park Art Center present a screening and discussion of Manfred Kirchheimer's New York city symphony Stations of the Elevated (1981, 45 min., DVD), which weaves together vivid images of graffiti-covered elevated subway trains crisscrossing the gritty urban landscape of 1970s New York against a soundtrack that combines ambient city noise with jazz and gospel by Charles Mingus and Aretha Franklin. Gliding through the South Bronx, Brooklyn, Queens, and Manhattan, with a detour past an upstate prison, the film is an impressionistic portrait of and tribute to a New York that has long since disappeared. At a time when graffiti was largely dismissed as vandalism and a symbol of urban decay, the film explores it as a form of self-expression and a reaction to New York's social and economic conditions, an artistic counterpoint to the "legalized vandalism" dominating the city's visual landscape in the form of corporate advertising. Juxtaposing the colorful imagery of "tagged" cars with shots of hand-painted billboards depicting hamburgers and bikini-clad women, Stations forces audiences to ask: "What is urban art, and what role does it play in the daily life of a city?" To this we can add, how much has society's opinion of graffiti really changed?
Chicago born and raised graffiti legend Gabriel "Flash" Carrasquillo Jr. joined one of the first graffiti crews in Chicago in 1982, Artistic Bombing Crew (ABC), and began painting Chicago rooftops, bringing New York style graffiti to the masses between 1982 and 1987. He soon became known as "Flash" for his passion and ability to take pictures and document his environment. In 2003 Flash began posting and documenting Chicago graffiti's culture, and in 2005 became the moderator for the popular site Chicago Graffiti Forums, which is used by schools and universities as a place of reference for students learning about the history of Chicago graffiti. He has documented over 35 years of Chicago graffiti and street art, and his photos have appeared in Roger Gaston's History of American Graffiti and other graffiti publications. His block letters can be found in CRACKDOWN 2, a video game by Ruffhouse for X-BOX 360. For the past five years, Carasquillo has curated "Project Logan," a permission wall which rotates various artistic styles of graffiti. Most recently, he was invited to participate in the inaugural creation of the 606 Chicago Graffiti Garden Arena. Both projects serve as a visual record of an ever-changing community and the evolution of graffiti.