Union Maids & The Willmar 8
1980 / 98 min. / 16mm
Logan Center for the Arts, 915 E. 60th St.
Sunday, November 13, 2016 at 3pm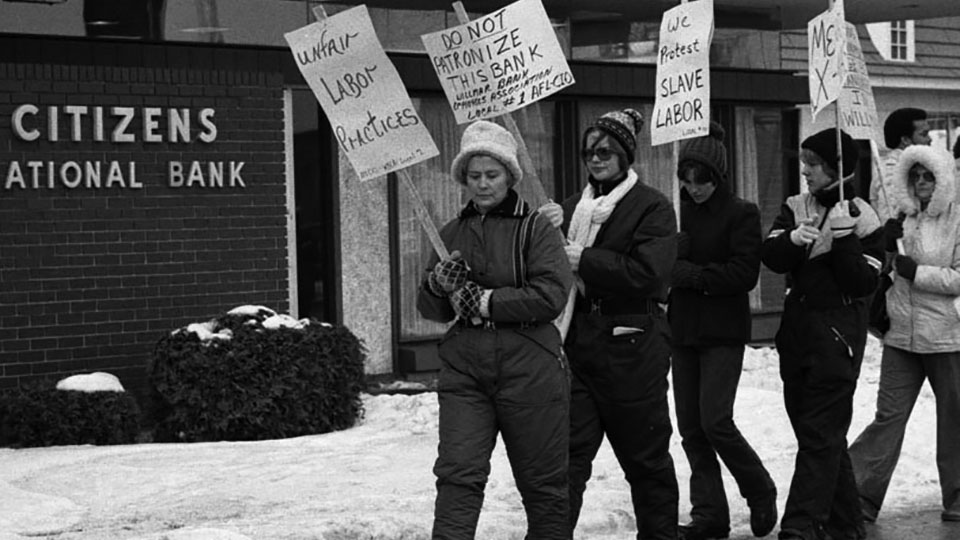 Alternative Histories of Labor concludes with a double feature of films about women organizing. Union Maids is an Oscar-nominated 1976 film about three women labor organizers in 1930s Chicago, and The Willmar 8 is about a bank strike over sex discrimination in Minnesota. Three-time Oscar-nominated director Julia Reichert will be present for discussion.
About the Films (text by Kathleen Sachs)
Union Maids: "Union Maids is an important, compelling, and happy new film, product of a new class conscious socialist movement that is emerging out of the strengths of both the New and Old Lefts," wrote feminist historian Linda Gordon in a 1977 issue of Jump Cut: A Review of Contemporary Media. "The film, if it is as widely used as I hope it will be, should also help to build that movement by making it possible to understand and use our history." The history in question is that of working-class organizers; the film is about three women industrial workers—two white and one black—who rose through the ranks of the CIO to become formidable labor activists. First told in Alice and Staughton Lynd's Rank and File: Personal Histories of Working Class Organizers, their stories provide unique insights into both the history of labor organizing and the place of women within it. "It reasserts the potential of leadership by people who are at once exceptional and ordinary," Gordon observed, a sentiment that's mirrored by the filmmakers' straightforward approach to documenting their compelling—and crucial—stories. (Julia Reichert, Jim Klein, Miles Mogulescu, 1980, 48 min., 16mm print courtesy of Indiana University Libraries)
The Willmar 8: In the small town of Willmar, Minnesota, in December 1977, eight female employees of a Citizens National Bank decided they'd had enough with being paid less and having fewer opportunities for advancement than their male coworkers. They set up a picket line outside their place of employment (when the wind chill was -70° Fahrenheit!), thereby starting the longest bank strike in American history. Dubbed the Willmar 8, the strikers garnered national media attention as well as support from the Women's Movement, with the National Organization for Women sending volunteers to join in the picket line. Noted actress Lee Grant directed this documentary about the affair, which originally aired on PBS in 1981; it follows the strikers from the start of the protest to its resolution. Gloria Steinem raved that "there could be no better film to show skeptics what the women's struggle is all about or to show women that the struggle is worth it." (Lee Grant, 1980, 50 min., 16mm print courtesy of Chicago Film Archives)
About Julia Reichert
Three-time Oscar nominee Julia Reichert's films have screened in major film festivals worldwide, including Sundance, New York, Telluride, Cannes and Rotterdam. Her first five documentaries—Growing Up Female, Methadone – An American Way of Dealing, Union Maids, Seeing Red, and A Lion in the House were all broadcast on national PBS. The Last Truck (with Steve Bognar) premiered at Telluride and was an HBO special. The short Sparkle won the audience award at Silverdocs and was broadcast nationally on PBS. Her most recent project is an experimental interactive nonfiction web site, Reinvention Stories, also with Bognar and WYSO FM. Growing Up Female, which was her student project at Antioch College, was recently named to the National Film Registry. Her films have screened theatrically around the US, playing in over 100 cities, and internationally in theaters and television in dozens of countries. She is a proud co-founder of this distribution co-op New Day Films, a founder of the Independent Feature Project, a retired professor of film production at Wright State University, a mom, and a grandma.
About the Series
The spread of "right to work" laws and the Fight for $15 movement have brought renewed focus to labor issues. Drawing on the energy of these and other current struggles in the workplace, Alternative Histories of Labor aims to expand on the dominant narrative of labor movements as mostly white and mostly male. These six film screenings and discussions highlight the contributions of women and racial/ethnic minorities to US labor movements.
Sponsors
The series is sponsored by South Side Projections; Illinois Humanities, the National Endowment for the Humanities, and the Illinois General Assembly; The MacArthur Funds for Arts and Culture at The Richard H. Driehaus Foundation; SEIU Healthcare Illinois Indiana; Black Cinema House; Contratiempo; Aguijón Theater; and the Center for the Study of Race, Politics and Culture, Reva and David Logan Center for the Arts, and Center for the Study of Gender and Sexuality at the University of Chicago.