HSA Strike '75 & I Am Somebody
1970-76 / USA / 51 min. / 16mm & digital projection
SEIU Healthcare, 2229 S. Halsted St.
Monday, September 26, 2016 at 6:30pm
Post-screening discussion with Judy Hoffman (Kartemquin Films), Claudia Fegan (Stroger Hospital), Bonita Williams (SEIU Healthcare Illinois Indiana), and Howard Ehrman (HSA negotiating and strike committees)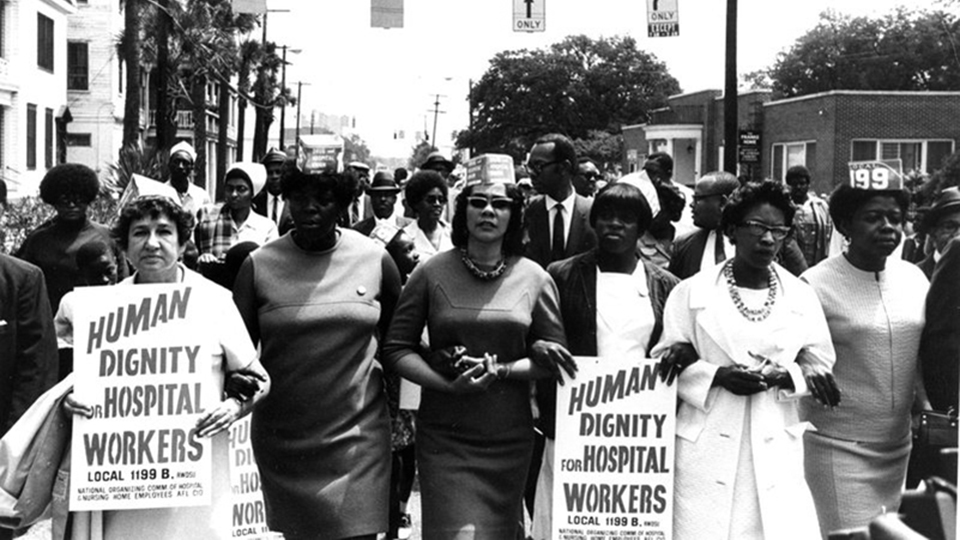 Two films about strikes by hospital workers illuminate the human cost of putting economics before people in the healthcare industry. HSA Strike '75 chronicles an eighteen-day strike by a union of interns and residents at Cook County Hospital for better patient care, particularly more Spanish translators to help treat the large number of non-English-speaking patients that came to Chicago's only public hospital. I Am Somebody opens to more than ten thousand people marching in support of a strike by poorly paid black female hospital workers in South Carolina. The impassioned participants (including Coretta Scott King and Ralph Abernathy) make explicit the connections between workers' rights and civil rights. (Judy Hoffman, 1975, 21 min., DVD; Madeline Anderson, 1970, 30 min., 16mm)
About the speakers
Judy Hoffman is a long-time documentary filmmaker and Professor of Practice in the Department of Cinema and Media Studies at the University of Chicago. Dr. Claudia Fegan is executive medical officer for the Cook County Health and Hospital System and chief medical officer at John H. Stroger Jr. Hospital of Cook County. She is also president of the Chicago-based Health and Medicine Policy Research Group. Bonita Williams is a crisis worker at St. Bernard Hospital and an SEIU Healthcare member. Dr. Howard Ehrman was a member of the 1975 Cook County Housestaff Association (HSA) negotiating and strike committees and a coauthor of the HSA Contract; he retired this year after 41 years as a public health physician, faculty, and administrator at hospitals and universities in Chicago and California.
About the Series
Drawing energy from the wave of attention to labor issues prompted by the spread of "right to work" laws and the Fight for Fifteen movement (among others), Alternative Histories of Labor aims to expand on the dominant narrative of labor movements as mostly white and mostly male. Six film screenings and discussions will highlight the roles of women and racial/ethnic minorities in US labor movements.
Sponsors
The series is sponsored by South Side Projections; Illinois Humanities, the National Endowment for the Humanities, and the Illinois General Assembly; The MacArthur Funds for Arts and Culture at The Richard H. Driehaus Foundation; SEIU Healthcare Illinois Indiana; Black Cinema House; Contratiempo; Aguijón Theater; and the Center for the Study of Race, Politics and Culture, Reva and David Logan Center for the Arts, and Center for the Study of Gender and Sexuality at the University of Chicago.
Thanks
HSA Strike '75 courtesy of Kartemquin Films. I Am Somebody courtesy of Icarus Films; 16mm print courtesy of the Reserve Film and Video Collection of The New York Public Library for the Performing Arts. The film has has been preserved with funding from the Carnegie Corporation of New York.