El Teatro Campesino
1970 / 61 min. /16mm
La Catrina Cafe, 1011 W. 18th St.
Tuesday, October 19, 2016 at 7pm
With Martin Unzueta of Chicago Community and Workers' Rights, Marcopolo Soto of Aguijón Theater and Contratiempo, and Jacqueline Lazú of DePaul University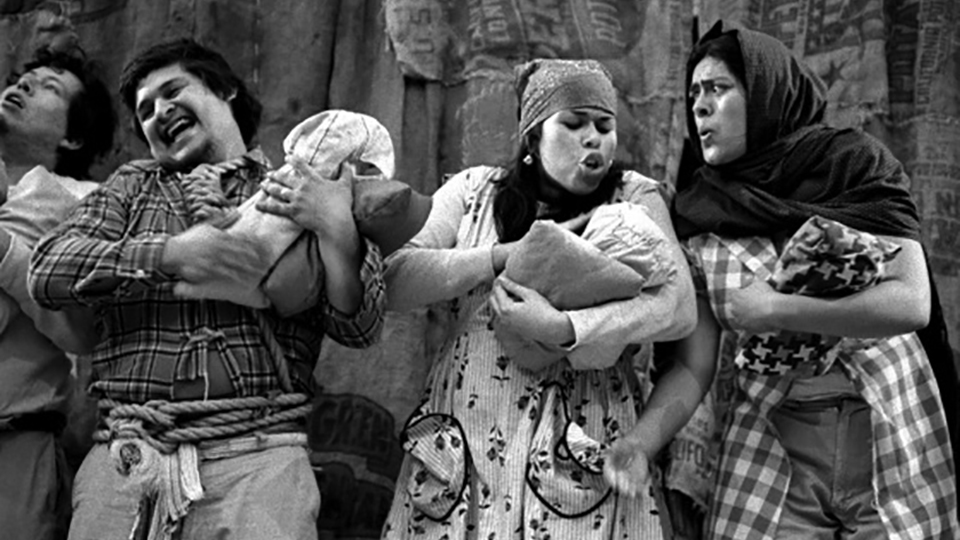 Alternative Histories of Labor continues with El Teatro Campesino, a 1970 film about the theater troupe of the United Farm Workers.
About the Film
El Teatro Campesino is a feature-length documentary originally created for the National Educational Television network just before it was replaced by the arguably less politically conscious PBS. The film chronicles the first five years of the titular theatre troupe founded by Luis Valdez as the cultural arm of the United Farm Workers. Its cast members were farmworkers and its original performances were staged in fields and concerned the daily struggles of their cast members. The troupe, which is still active today, inspired the creation of many other Chicano theater groups. (Jac Venza, Janet Sternburg, Victoria Hochberg, 1970, 61 min., 16mm)
About the Series
Drawing energy from the wave of attention to labor issues prompted by the spread of "right to work" laws and the Fight for Fifteen movement (among others), Alternative Histories of Labor aims to expand on the dominant narrative of labor movements as mostly white and mostly male. Six film screenings and discussions will highlight the roles of women and racial/ethnic minorities in US labor movements.
Sponsors
The series is sponsored by South Side Projections; Illinois Humanities; The MacArthur Funds for Arts and Culture at The Richard H. Driehaus Foundation; SEIU Healthcare Illinois Indiana; Black Cinema House; Contratiempo; and the University of Chicago Center for the Study of Race, Politics and Culture; Arts + Public Life; Reva and David Logan Center for the Arts; and Center for the Study of Gender and Sexuality.