Nguzo Saba films
Carol Munday Lawrence / USA / 1972-1981 / 53 min. / 16mm
Reva and David Logan Center for the Arts, 915 E. 60th St.
Saturday, December 3, 2016, 2pm
Presented by South Side Projections and the Reva and David Logan Center for the Arts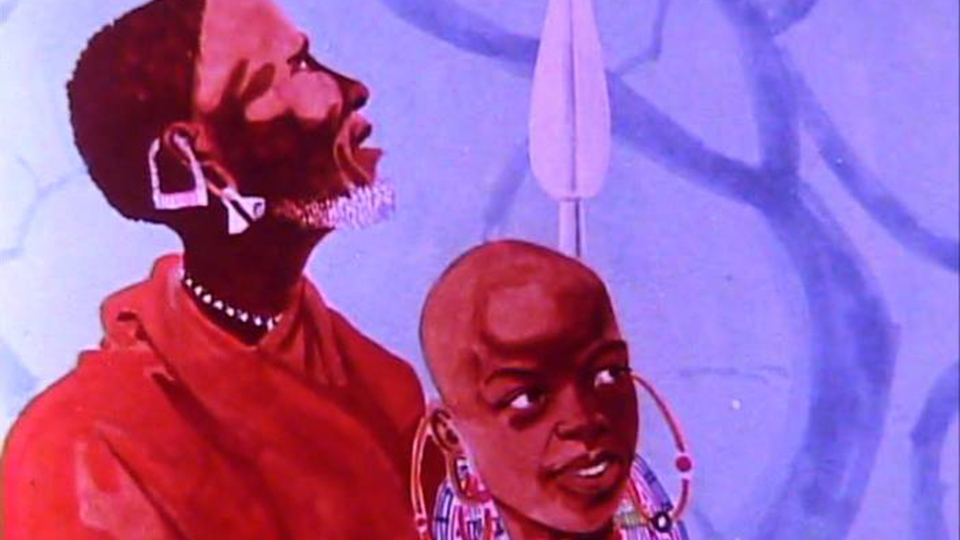 Produced between 1972 and 1981, these films illustrate the nguzo saba, or seven principles of unity. The principles will sound familiar to those familiar with Kwanzaa, but they're about much more than just the holiday. In Black Women Film and Video Artists, Lawrence explains that "each principle is one of the ingredients of a unified community, something vital to the cultural and economic survival of African Americans. It occurred to me that each one could be illustrated by a folktale from somewhere in the African diaspora." Lawrence said she knew nothing about the animation process before embarking on the first film in the series, 1972's Tiger and the Big Wind, but over the next seven years, she pieced together funding and staff to complete the series. The films feature music by Odetta, Babatunde Olatunji, Taj Mahal, and Don Lewis. "These films are national treasures," says Jacqueline Bobo, the editor of Black Women Film and Video Artists.
The Films (total program time = 50 minutes)
Umoja = Unity. Tiger and the Big Wind (1972, 8 min.). In this African American folktale, which dates from the enslavement, the animals are plagued by a fierce tiger who is hoarding all their food. They're hungry and helpless until Brother Rabbit shows them how to trick the tiger into submission by pooling their resources. Narrated by folklorist William J. Faulkner.
Ujima = Responsibility. 
Mudope and the Flood (1975, 5 min.). Modupe is a hermit who lives high on a mountain in Nigeria. When he sees a flood bearing down on unsuspecting villagers in the valley, he saves their lives by setting fire to his crops, knowing that they will climb the mountain to help him.
Imani = Faith. 
Beegie and the Egg (1976, 8 min.). Beegie, a West African girl, is afraid to venture deep into the woods. She dreams about a magic egg entrusted to her by her father. To release its magic, she must overcome her fear, take the egg into the forest, and sing to it.
Kuumba = Creativity. 
Simon's New Sound (1978, 8 min.) is the story of a young Trinidadian boy who is searching for a new instrument to play in his country's national Carnival parade. The sound of raindrops on an old oil drum gives Simon an idea for the perfect instrument. Poet Opal Palmer is the voice of Simon.
Kujichagulia = Self-Determination. The Kangaroos Who Forgot (1979, 6 min.) is about two lost kangaroos in Australia who are adopted by a platypus family. They're raised as good platypuses, but have they remained true to themselves?
Nia = Purpose. Finding the Green Stone (1980, 5 min.). Everyone in Mary Jean's community wears a green stone that shines brightly when there is harmony. Mary Jean makes excuses when asked to help others, and her stone gradually disappears. When she steals someone else's stone, her dishonesty affects everyone in the community. Based on a short story by Alice Walker.
Ujamaa = Economic Cooperation. 
Noel's Lemonade Stand (1981, 9 min.). Noel, an aspiring entrepreneur, receives the help of neighbors in his big city apartment building, and discovers that they have just what he needs to make his sidewalk lemonade stand a success.
Carol Munday Lawrence is an award-winning producer, writer and director with a wide variety of credits that include the television miniseries Were You There, which she wrote and produced; the movie The Cotton Club (Consultant to Francis Coppola); Charles Burnett's feature To Sleep With Anger (Post Production Supervisor) and a seven-part series of animated children's films.
Thank you to Cassie Blake and Charles Rogers at the Academy Film Archive for their assistance.