Until the Walls Fall Down, Paint Them: Films by Don McIlvaine
Jane Addams Hull-House Museum, 800 S. Halstead
Friday, December 11, 2015 at 6pm
Presented by South Side Projections, the DuSable Museum of African American History, and the Haitian American History Museum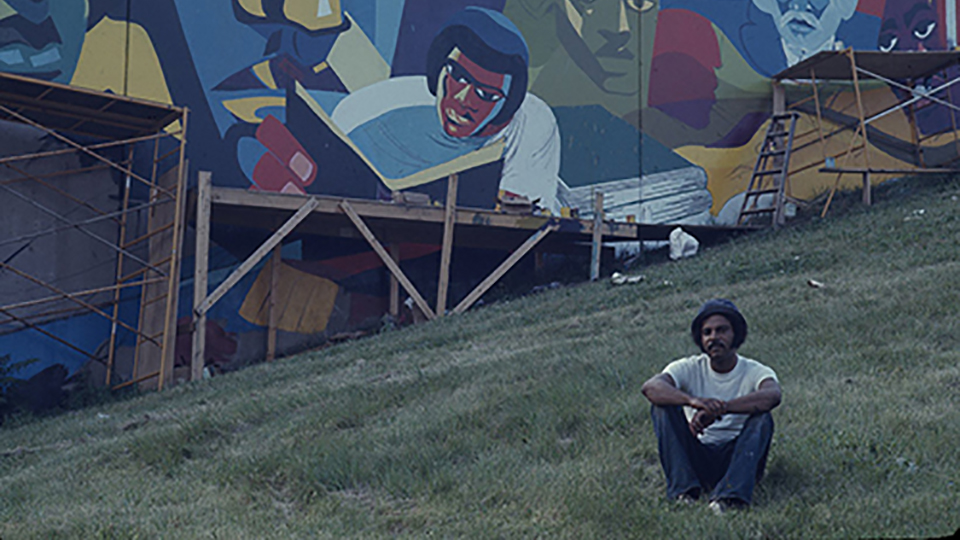 Chicago Film Archives, the Jane Addams Hull-House Museum, and South Side Projections present a celebration of the life and work of Chicago artist and filmmaker Don McIlvaine. Northwestern University art historian Rebecca Zorach will discuss McIlvaine's paintings and murals, and then we'll watch films from the Don McIlvaine Collection housed at Chicago Film Archives. Join us afterward for a reception with McIlvaine's family.
About Don McIlvaine
Chicago mural artist Don McIlvaine (1930-2005) is known for his large-scale street paintings of everyday struggles. From 1969 to 1972, he directed the North Lawndale-based art center Art & Soul. Art & Soul, a collaborative project of the Museum of Contemporary Art and the Conservative Vice Lords (an organization that developed out of the Vice Lords street gang in the 1960s and did community development work for several years on the west side) provided the tools and space for young people of North Lawndale to express their thoughts in artistic form. Together with students, McIlvaine painted powerful murals in the neighborhood; he also produced works on canvas and independently painted murals around the city. Interviewed for a 1970 Time article about diversity in visual art, McIlvaine declared, "People decorate the street because that's where their life is." McIlvaine's murals have now, tragically, been almost entirely demolished. He taught at the University of Illinois at Chicago, published several neighborhood newspapers and magazines about African American culture, and even ran for alderman.
About the Films
These selections from the Don McIlvaine Collection consist primarily of home movies from Chicago's North Lawndale and Bronzeville neighborhoods, including footage of murals in progress and scenes from youth art programs at Art & Soul. McIlvaine's sole extant foray into fictional film, an eight-minute short called Back Alley Ripoff, shot in North Lawndale and featuring valuable footage of daily life on the West Side, may have inspired the 1974 film Uptown Saturday Night, which features a similar plot involving a search for a missing lottery ticket. Also included is a segment of a filmed interview with Angela Davis, which McIlvaine likely shot, and a scene from DeWitt Beall's Lord Thing, in which McIlvaine instructs local children about Diego Rivera and Frederick Douglass.