Prisoners: Rights and Wrongs
1991 / 58 min. / digital video
Toman Library, 2708 S. Pulaski Rd.
Wednesday, June 17, 2015 at 6pm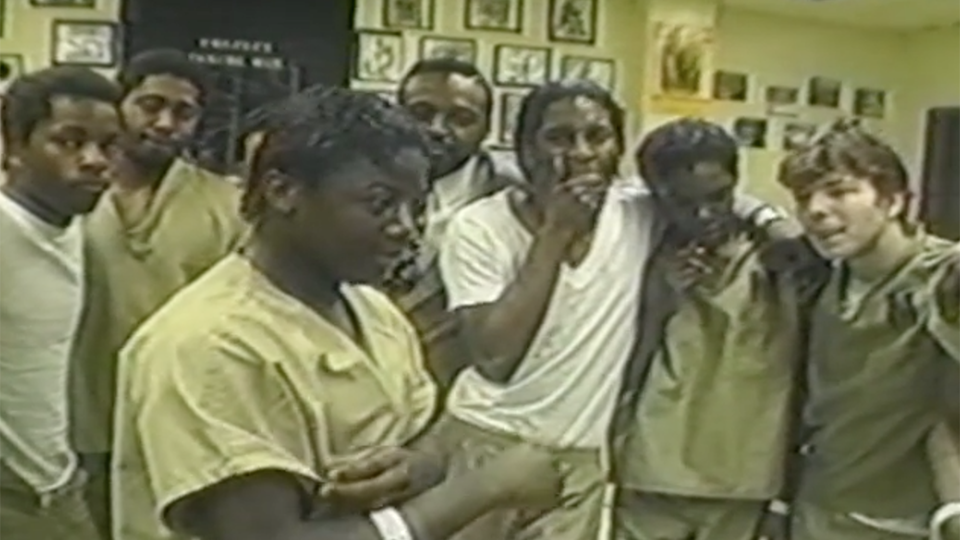 Cook County Jail, the largest single-site jail in the United States, looms large in Chicago history. Occupying 96 acres of land in the west side neighborhood of Little Village, it employs more than 10,000 guards and civilians and admits nearly 100,000 inmates annually. Since a 2008 federal investigation found rampant abuses of inmates' constitutional rights, the jail has operated under a consent decree with the Justice Department. The government argues that violence and violations have abated, but a federal lawsuit alleging a "culture of brutality" is currently proceeding through the courts. But beyond these allegations of violence, what effects does Cook County Jail have on the community surrounding it, and what effects does mass incarceration have on communities of color? This program attempts to address these questions through viewing a snapshot of the culture of incarceration as it existed twenty-five years ago and discussing how the issues raised then still resonate today.
Prisoners: Rights and Wrongs (1991, 58 min., video projection) is an episode of the Emmy-winning public TV program The 90s, which showcased the work of independent video makers from around the country in themed episodes. This episode addresses mass incarceration in the United States through segments devoted to racism in the criminal justice system, gangs, increasingly rare educational and rehabilitation programs in prisons, incarcerated women, Mumia Abu Jamal, and supermax facilities, among others. Several segments address Illinois jails and prisons, including Cook County Jail, Lake County Jail, and Marion Federal Prison, which at the time was a supermax. Also screening is Blues in the Big House (1993, 5 min., video projection), about an R&B group consisting of inmates and guards at Cook County Jail. Both videos are courtesy of Media Burn Independent Video Archive.
Following the screening, organizers of the 96 Acres project will talk about their work. 96 Acres is a series of community-engaged, site-responsive art projects that involve community stakeholders' ideas about social and restorative justice issues, and that examine the impact of incarceration at the Cook County Jail on Chicago's West Side. 96 Acres uses multi-disciplinary practices to explore the social and political implications of incarceration on communities of color. Through creative processes and coalition building, 96 Acres aims to generate alternative narratives reflecting on power and responsibility by presenting insightful and informed collective responses for the transformation of a space that occupies 96 acres, but has a much larger reaching outcome.