The Great Chicago Conspiracy Circus: An Interview
An interview with Kerry Feltham and Diane Grant, director and star of The Great Chicago Conspiracy Circus, a film about the Chicago Eight (or Seven) trial, which we showed in 2014.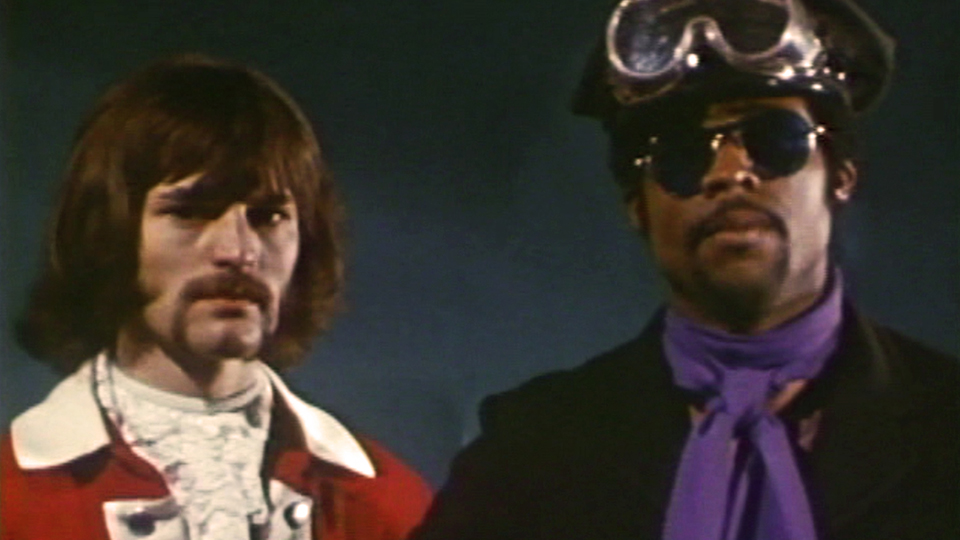 How do you summarize the 1968 DNC riot and the Chicago Seven trial in a paragraph? You end up with sentences in which every other word requires a sentence of explanation. It's impossible. Here's a good blow-by-blow account.
During the trial, a Toronto theater group who had an inside man in the federal court building in Chicago started working on a play based on smuggled transcripts of the trial. In the cast was playwright and actress Diane Grant. Later, during a successful New York run of the play, called Chicago 70, director Kerry Feltham made a film of the play. The film is mostly forgotten now, but I chanced upon it last year and contacted Kerry to see if it was available.
Fast forward to Wednesday, when Kerry Feltham and Diane Grant called me from Kerry's office at Palisades High School in Pacific Palisades, California, where he teaches film; Diane works right across the street at the community theater. I wanted to find out how the film came about, which led to a fascinating conversation about their careers.
The play was called Chicago 70, and the film was called Chicago 70: The Conspiracy Circus when it played two sold-out shows at the Chicago Theater during the Chicago International Film Festival in 1970. "The Great Chicago Conspiracy Circus was the title given it by the New Line Cinema guys and it was a really good one," Kerry says. "The whole idea is that it was a circus, it was a performance. It was the Yippies taking the justice system and demonstrating how crazy things were." Certainly the system rose to the occasion.
"We got the idea for the play from a member of the cast who was from Chicago," says Diane. "He had a friend who worked in the transcription room at the federal courthouse, and he would give us the transcripts as they came in." I ask whether this was entirely legal, and Diane responds with a laugh, "I don't think it was. He just took them at the end of the day. We didn't get everyone—we didn't get Tom Hayden."
The play was initially conceived by the Toronto Workshop Company, which Diane remembers as "a wonderful troupe. It was Canadians and Americans together." A couple of the Americans might have been avoiding the draft, but Diane says nobody ever asked because it was none of their business. The artistic director was George Luscombe, who had studied under Joan Littlewood's Theater Workshop, which also produced Richard Harris, Nigel Hawthorne, and Shelagh Delaney.
"We were really used to improvising and working from research," Diane says. "We cut the transcripts—we didn't change any words, but we did cut it to fit." It was a collaborative venture—although, despite what the Internet Movie Database maintains, schlockmeister Herschell Gordon Lewis was not involved. "Everybody brought in ideas," Diane recounts. "One of the cast members came up with the idea of using Alice in Wonderland because it also had a mock trial, and that really tied everything together." Actors changed parts in the middle of the play, and some actors played several parts; Diane appears as Alice in Wonderland, defense witness Linda Morse, and an embodiment of the jury, among others.
Later, at an invitation from someone who worked at Circle in the Square theater in New York, it played a 24-performance run at the Martinique Theater there. Diane says it was well reviewed; Kerry adds "Diane got the best reviews of all."Kerry says it was obvious that it would make a good film. "It was so alive and it was so nutty, and it captured an important truth." (It was during this time that Kerry and Diane met; they've been together ever since.) Diane says that as Kerry was filming, she was busy writing script pages to reproduce the elements of the play that the actors had improvised. "We never did have a finished script."
The film is essentially a filmed performance of the play, with some cinematic gestures and the luxury of retakes in case of mistakes. "I never thought about making it more 'realistic'," says Kerry. "It's both direct and abstract. I didn't want anything to get in the way of the central idea." They did redesign the production so the set was quite different from the stage version, adding mirrors and emphasizing the carnivalesque feel. It was the right decision: courtrooms are stages anyway, and as Kerry says, good lawyers are good actors; adding the psychedelic sheen just emphasizes what a mockery of justice the trial was.
"I took the print as soon as it was finished and went to Cannes with it under my arm," says Kerry. It was playing out of competition, but programmers from the Berlin International Film Festival saw it. They invited Kerry to screen it there, and it won the Interfilm Award.Kerry says that when he got back to New York, "there were three or four days when I was the flavor of the week." Albert and David Maysles loved it, and Leacock Pennebaker—brainchild of two of the founders of direct cinema—were interested in distributing it. New Line Cinema picked it up and it had theatrical runs in Washington and New York.
"Gosh," says Kerry, "that was about it."
Time passes and people move on. The 1970s opened with hope and closed with Reagan. The actors went their separate ways. Theater director George Luscombe died in 1999; the man who smuggled the transcripts out of the federal court building died young. The other actors are in London, San Francisco, Toronto. "We held together as a troupe for a long time," says Diane, "but after a while people just disperse."
The play toured and is occasionally revived, but the film mostly slipped from memory. It's very much in the moment, and it can be a difficult watch for people who don't know who Jerry Rubin or Bobby Seale was. "It's political, and I guess political things don't always live long," reflects Kerry. The film itself was controlled by New Line for seven years, after which the copyright reverted to Kerry. As far as he knows, the negative is lost, and he has what is probably the only print, a battered 16mm that he assures me is unwatchable. In 2009, he digitized it and added front matter and name cards to explain the events of the trial to audiences who were not yet born and likely have never heard of the Yippies. You can order a teaching guide from Kerry's website.
The film should be better known, since it provides a unique look at important historical events. But even beyond the historical events, the film reflects larger themes that are still relevant. The justice system is still opaque and stacked against minorities and those accused of crimes. Terror suspects are tried in secret courts with secret evidence, or never tried at all.
Kerry has to run—his classroom of high school students is filling up, and they're going to finish watching Casablanca today. Diane and I chat for a while, sharing a laugh over a mutual connection to the Women's Christian Temperance Union: Her aunt was the secretary general of the WCTU in Canada, and I once wrote a research paper on the organization's branches in rural Michigan. She fills me in on their lives since the film.
Their creative partnership has continued along with their marriage. Among many other projects, their 1983 short film Too Much Oregano (she wrote, he directed) won a jury prize at the Cannes Film Festival and was nominated for the Palme d'Or. More recently they made a documentary called Will to Win about the Southern California Shakespeare Festival. She laughs that they used to write screenplays together, "but it's such a tough gig. We did that for a long while, then we thought, well, we better make a living." Diane has written a dozen plays that have been produced around the continent, and she currently blogs for the Los Angeles Female Playwrights Initiative. Kerry worked steadily in TV as a producer before becoming a teacher. Of local interest on his resume is a 1982 series called Chicago Story starring a youngish Dennis Franz, which Tom Shales of the Chicago Sun-Times called "Nothing less than spectacular."
Kerry recently made a documentary about Karen Black that he's trying to get distributed. Diane keeps writing plays and is active in the theatrical community in her neighborhood and across the country. They might have moved on from the great Chicago conspiracy circus, but they're still at it, together.