Co-Prosperity Sphere, 3219 S. Morgan Ave.
Thursday, January 23, 2014 at 7pm
Presented by South Side Projections and the DuSable Museum of African American History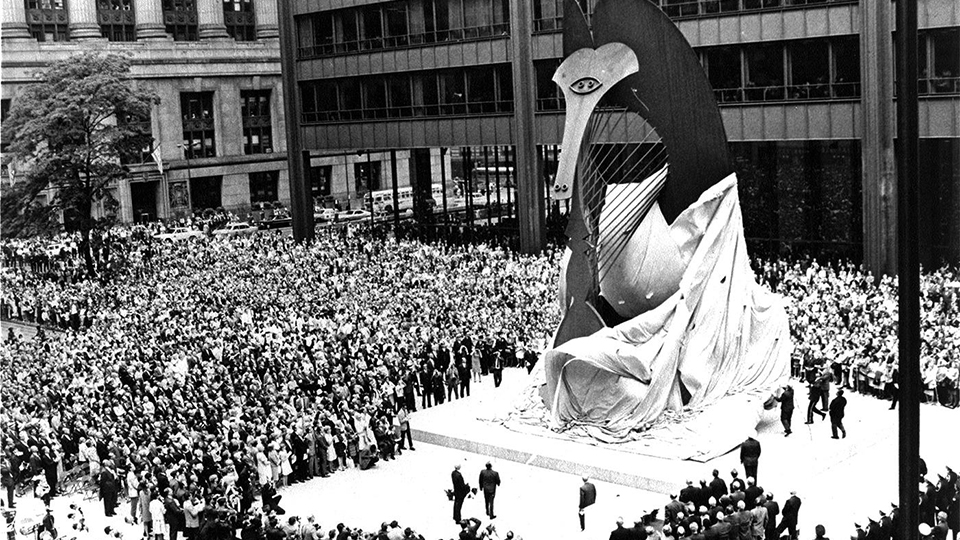 South Side Projections commemorates the 47th anniversary of the dedication of the Chicago Picasso in Daley Plaza by presenting two contemporary films with decidedly different opinions about the massive sculpture. Local filmmaker Tom Palazzolo and Art Institute of Chicago museum educator Annie Morse will be present to discuss the somewhat ridiculous but mostly factual circumstances of Richard J. Daley's push to bring massive modernist public art to Chicago.
Public television station WNET's film The Chicago Picasso (1967, 60 min., 16mm) is a slick, entertaining educational film about how great men with big ideas, sacks of cash, and steel smelters helped bring cutting-edge art to the citizens of Chicago. Tom Palazzolo shot The Bride Stripped Bare (1967, 12 min., 16mm) at the dedication ceremony, sending up what he called the "absurd and mystical pomp bound up in grandiose ceremonies." Both films will be screened from 16mm film.
16mm print of The Chicago Picasso courtesy of Indiana University Libraries Film Archive.
Tom Palazzolo is a Chicago film institution.
Annie Morse is Senior Lecturer in Museum Education and liaison to the academic community. She graduated from the Master's program in Modern Art History, Theory, and Criticism at the School of the Art Institute after earning her undergraduate degree at the University of California at Santa Cruz, and received her Masters in Library and Information Science from the University of Illinois at Urbana-Champaign. She is an independent curator who has worked with the Contemporary Arts Council, Columbia College Chicago, and the Hyde Park Art Center, among others.