Out of Bounds: In the Shadow of His Airness
South Side Community Art Center, 3831 S. Michigan Ave.
Saturday, July 13, 2013 at 7pm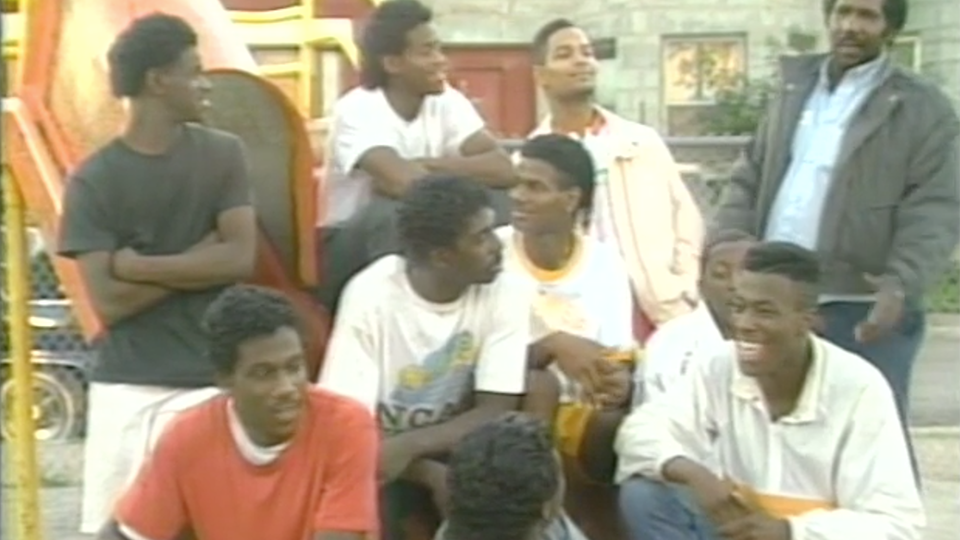 The 1990s marked a golden age of basketball in Chicago. The city was bewitched with Michael Jordan, a larger than life demigod blessed with the uncanny ability to walk on air. Yet, apart from the spotlights that beamed down on Jordan, there existed a different kind of basketball. In partnership with the Media Burn Independent Video Archive, South Side Projections presents an alternative chronicle of hoops in Chicago during the heyday of the Bulls.
Filmmaker and Media Burn founder Tom Weinberg, director Joel Cohen, and Michael Johnson, the man featured in The Other MJ, will be present at the screening.
Originally produced for public television, Tom Weinberg's The Other MJ (1999, 28 min., DVD) tells the story of Michael Johnson, a janitor at the United Center. Although he shares the same initials as the legendary shooting guard, their lifestyles are worlds apart. A resident of Chicago's notorious Cabrini Green housing project, Johnson struggles to support himself and six kids on a meager salary. Surrounded by politicians at the Democratic National Convention, he expresses disillusionment with a system that seems to perpetuate the status quo and further marginalize people on the sidelines of society. Johnson curbs his world-weariness by playing pick-up basketball.
Similarly, Joel Cohen and Joe Angio's More Than a Game (1992, 48 min., DVD) interviews a group of young streetballers on the role of basketball in their lives. In an era when an unprecedented number of Chicago high school students were being recruited by major college programs, the film looks at the players who didn't make the cut. Is basketball an impractical pipedream that sidetracks inner-city youth from pragmatic goals or a productive outlet for the stress of a disenfranchised existence?