The Sojourner Truth Festival of the Arts 2023 Symposium
Logan Center for the Arts, 915 E. 60th St.
Friday, March 3 & Saturday, March 4, 2023
Please visit voices.uchicago.edu/sojourner for a full schedule. Note that Friday's events are SOLD OUT but can be livestreamed. Saturday's events have limited in-person tickets available, and can also be livestreamed. For livestream tickets, click here. For in-person tickets, click here.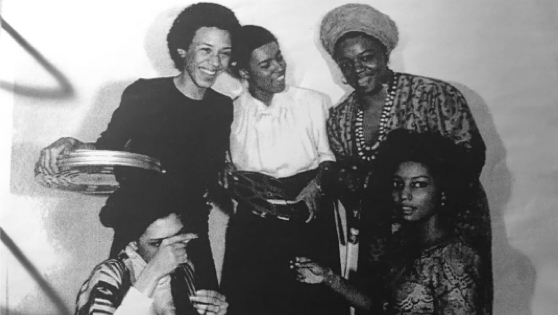 In 1976, an extraordinary group of Black feminist artists and activists organized the first ever Black women's film festival: the Sojourner Truth Festival of the Arts. Films by Michelle Parkerson, Ayoka Chenzira, Edie Lynch, and Madeline Anderson, among others, were screened.  The festival was simultaneously a celebration of the emerging world of Black women's filmmaking as well as a radical call for the kinds of socio-political and institutional changes necessary for a Black women's film culture to thrive. Four decades later, the Sojourner Truth Festival of the Arts, 2023 commemorates the 1976 festival with a nine-week screening series, held in conjunction with Professor Allyson Nadia Field's winter 2023 course "Creating a Different Image: Black Women's Filmmaking of the 1970s-90s," and a two-day symposium about the original festival and the tradition of Black feminist filmmaking. For more information, visit voices.uchicago.edu/sojourner
At the conclusion of the screening series, the final symposium will provide an opportunity to reflect on the past and future of Black women's filmmaking. There will be roundtable conversations with some of the original festival participants, including Monica Freeman (the original film curator), Ayoka Chenzira, Jennie Bourne, Carol Munday Lawrence, Elaine Baly, Louise Fleming, Tippy Fortune, Jennifer Lawson, Edie Lynch, Michelle Parkerson, Joanne Braxton, Charlotte Carter, Patricia Spears Jones, and Margo Jefferson. The symposium will feature a keynote by Michele Wallace, a special tribute to Madeline Anderson, and a keynote conversation between Barbara McCullough and Julie Dash. In all, around 40 Black women filmmakers, writers, and curators will convene at the Logan Center from March 3 to 4 to celebrate the The Sojourner Truth Festival of the Arts, 2023.
The symposium is presented by the Film Studies Center, Sisters in Cinema, South Side Projections, the Poetry Foundation, and the Logan Center for the Arts, and is co-sponsored by Indiana University's Black Film Center & Archive, the Field Foundation, the Chicago Community Trust, Arts Midwest, and partners across the University of Chicago.