Ceremonies: Short Films by Marlon Riggs
South Side Community Art Center, 3831 S. Michigan Ave.
Thursday, May 19, 2022 at 6pm
RSVP here
Presented by the South Side Community Art Center and South Side Projections
Post-screening discussion led by zakkiyyah najeebah dumas-o'neal and Aymar Jean Christian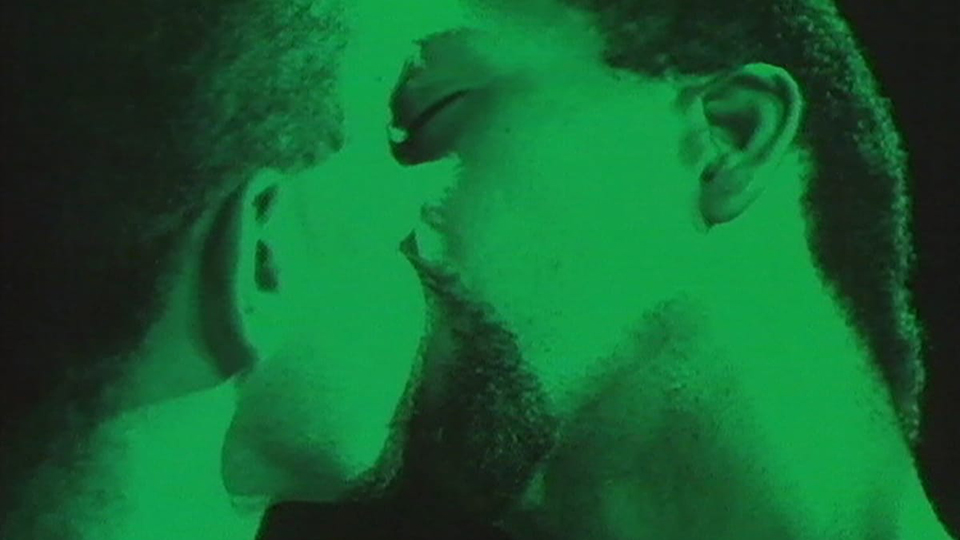 Presented as part of EMERGENCE: Intersections at the Center at the South Side Community Art Center.
A filmmaker unlike any other, Marlon Riggs was an unapologetic gay Black man who defied a culture of silence and shame. Riggs used a bold mix of documentary, performance, poetry, and music to confront the legacy of racist stereotypes and the impact of AIDS on the Black community. He died in 1995 of AIDS-related illness, leaving behind a vital, living body of work that wrestled with the very definition of what it means to be Black. This program features three of his short films: Affirmations (1990, 10 min.) explores black male dreams and desires and is framed by the poetry of Essex Hemphill. Built around outtakes of interview and protest footage from Tongues Untied, Affirmations begins as a candid, sex-positive confessional about first-time penetration and evolves into a rousing chorus of calls for freedom, recognition, and inclusion. Anthem (1991, 9 min.) is an experimental music video asserting a defiant homoeroticism of African American male sexuality. Made at a time when Marlon Riggs was three years into living with HIV and the motto "Silence=Death" was the queer community's defiant response to the antigay policies of the Reagan era, this experimental music video employs a mix of poetry, African beats, and provocative imagery—sexual, political, and religious—in order to challenge and redefine prevailing images of Black masculinity. Non, Je Ne Regrette Rien (No Regret) (1993, 38 min.) is a poetic and intimate film presenting moving testimonials and portraits of five black gay men, that tells stories of self-transformation in which a once unmentionable "affliction" is forged into a tool of personal and communal empowerment.
The title of this screening, Ceremonies, directly references poet Essex Hemphill's groundbreaking anthology of short stories and poetry Ceremonies: Prose and Poetry, which won the National Library Association's Gay, Lesbian, and Bisexual New Author Award when it was published in 1992. The book's poems and essays expand on many important social issues at the time, such as the white objectification of Black men, as epitomized by Robert Mapplethorpe's The Black Book; AIDS in the Black community; and the complex dynamics gay Black men experience in both the white LGBTQ+ community and in Black culture—very much in alignment with Riggs's exploration of these topics as it appeared in his film works. In addition, Hemphill's poetry was also featured in Marlon Riggs's documentaries Tongues Untied (1989) and Black Is … Black Ain't (1994).
A post-discussion will be led by SSCAC Public Programs and Engagement Manager, and co-curator of EMERGENCE zakkiyyah najeebah dumas-o'neal and Aymar Jean Christian, Associate Professor of Communication Studies at Northwestern University, and co-founder of OTV | Open Television, a platform for intersectional television.
EMERGENCE: Intersections at the Center spotlights the South Side Community Art Center's historical role in supporting a full spectrum of Black artists through an intersectional viewpoint. The first exhibition of its kind at the South Side Community Art Center, EMERGENCE positions the Center as an important anchor for Black LGBTQ artists who belonged to its community from its founding in 1940 to the 1980s and beyond. The exhibition features works addressing identity and community, queer spaces and performance, in collage, painting, sculpture, photography, and more.
Aymar Jean "AJ" Christian is an associate professor of communication studies at Northwestern University and author of the book, Open TV: Innovation Beyond Hollywood and the Rise of Web Television. Dr. Christian co-founded OTV | Open Television, a Chicago-based platform for intersectional television, whose programs have received recognition from the Television Academy (Emmy Awards), Webby Awards, Streamy Awards, Gotham Awards, among others. His work has been recognized by the MacArthur Foundation & Field Foundation (Leaders for a New Chicago, 2019), Variety (Top 50 Entertainment Instructor 2020 & 2021), Filmmaker (25 New Faces of Indie Film, 2018) and NewCity (Film Leader 2017 & Film Hall of Fame 2020).
EMERGENCE is supported by a major grant from the Re-envisioning Permanent Collections program of the Terra Foundation for American Art and by a partnership with Northwestern University's Department of Art History.