The Good Fight: The Abraham Lincoln Brigade in the Spanish Civil War
1984 / 98 min. / digital video
filmfront, 1740 W. 18th St.
Tuesday, October 22, 2019 at 7pm
Presented by South Side Projections and filmfront. This screening is part of the On Whose Shoulders series curated by HotHouse.
Introduced by Jerry Harris.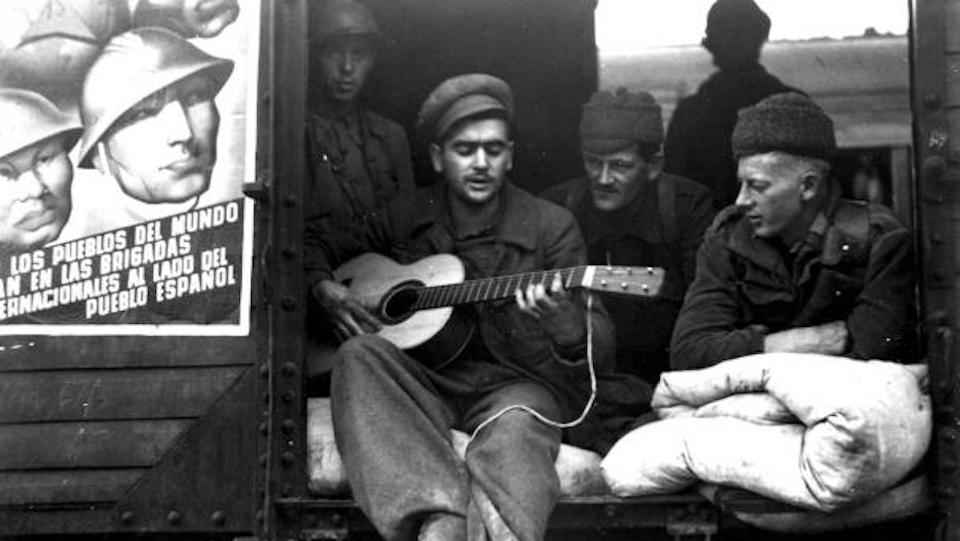 This documentary examines the experiences of the Abraham Lincoln Brigade, using interviews with survivors more than 50 years later. First, the film sets the context with the rise of Fascism. Then, in 1936, Spain's military revolts against the elected government, and the U.S. and Europe agree not to intervene. In response, volunteers eluded border guards and entered into Spain to fight with the Republicans. Narrated by Studs Terkel, The Good Fight explores a significant gap in our history through its use of newsreels, photographs, interviews with Lincoln veterans and Depression-era music. The eleven surviving veterans of the war who appear in this tough, stirring film share a common pride in their sacrifices of seventy years ago when the rise of world fascism crushed the spirit of democracy in a tragic rehearsal for World War II.
Jerry Harris will speak about his father's (Syd Harris) experience of growing up in a Jewish orphanage in Chicago, and joining the Lincoln Battalion to fight in the Spanish Civil War. Jerry Harris is a historian who wrote The Center Cannot Hold: The Communist Party 1957-58. His latest book is Global Capitalism and The Crisis of Democracy.