Working Women of Color: Three Films
1980-2017 / USA / 92 min. / digital projection
Chicago Women in Trades, 2444 W. 16th St.
Wednesday, November 28, 2018 at 6pm
Free admission
Presented by South Side Projections and Chicago Women in Trades.
Post-screening discussion with Chicago Women in Trades members Edith Guerrero and Ella Jones, moderated by Jocelyn Woodards.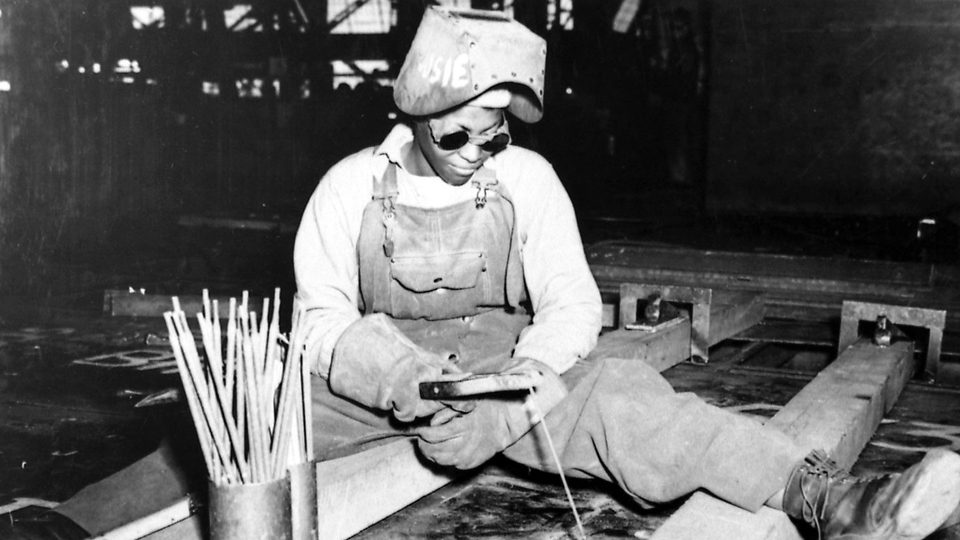 Three films outline the history of women of color in trades, demonstrate the great progress they've achieved since the era of Rosie the Riveter during World War II but also the ground that remains to be covered. Connie Fields's groundbreaking The Life and Times of Rosie the Riveter (1980, 65 min.) documents the millions of women, many of them women of color, who entered the workforce during World War II but were forced out when the war was over. The short documentary Warrior Woman (Jesus Contreras, 2017, 7 min.) is a portrait of Vanessa Enos: artist, indigenous, sister, traveler, and journey-level tradeswoman. She reflects on her upbringing on the Umatilla Indian Reservation in Northwest Oregon and her decision to become a tradeswoman. And in Dawn Jones Redstone's fictional short Sista in the Brotherhood (2016, 20 min.), a black tradeswoman faces discrimination on a new job site and must choose between making a stand or keeping her job.
Edith Guerrero is an apprentice member of Carpenter's Local 54. She graduated from Chicago Women in Trades' Technical Opportunities Program (TOP) in 2014. She was so inspired by the program and the opportunity to show other women the path to a career in the building trades that she signed on as instructor for the program in 2015. Edith, a first-generation American, is proud of both her Mexican heritage and her American citizenship. She has a bachelor's degree in business administration, but she learned she was better suited to hands-on work during her stint on the ground handling crew at Midway Airport. Edith is looking forward to inspiring women to pursue the building trades for many years to come.
Ella Jones entered the trades in 1986 as a Sprinklerfitter after working 14 years in the corporate sector. She found the job challenging but doable. In order to listen and learn from other women already in various trades, she began to attend meetings of Chicago Women in Trades (CWIT). Over the years, she has served the organization as board member, co-chair, and chair of the board. Ella's contributions to planning CWIT's 25th Anniversary Fundraiser Gala were indispensable. In 2008, after 22 years of service, she was laid off. Since she was eligible in 2009, she retired early so as not to be penalized with a loss of pension, becoming the first female retiree of Local 281.  As Ella says, "There will be others, and some with more time, but I will ALWAYS be their FIRST."
Jocelyn Woodards, the Popular Education Community Engagement Coordinator for the AFL-CIO, is a labor and community organizer, and veteran of numerous political campaigns. She has worked with national organizations such as the Center on Budget and Policy Priorities, the Democratic National Committee, NAACP, and People for the American Way, and on local, state, and national elections. And, she has trained organizers from around the country on the basics of community organizing and political campaigns. As the Popular Education Community Engagement Coordinator, Jocelyn has successfully trained hundreds of union members, leaders, constituency groups, community partners, and allies on the AFL-CIO Common Sense Economics program, a program designed to help working people understand the economy and how to take action on behalf of working people. Jocelyn is a proud member of CWA—TNG, CBTU and CLUW.