The Mural Movement and the Black Arts Movement
1970-74 / USA / 50 min. / digital video
South Side Community Art Center, 3831 S. Michigan Ave.
Saturday, November 10, 2018 at 6:30pm
Free admission
Presented by South Side Projections and the South Side Community Art Center
Q&A with muralists Arlene Crawford and Eugene "Eda" Wade.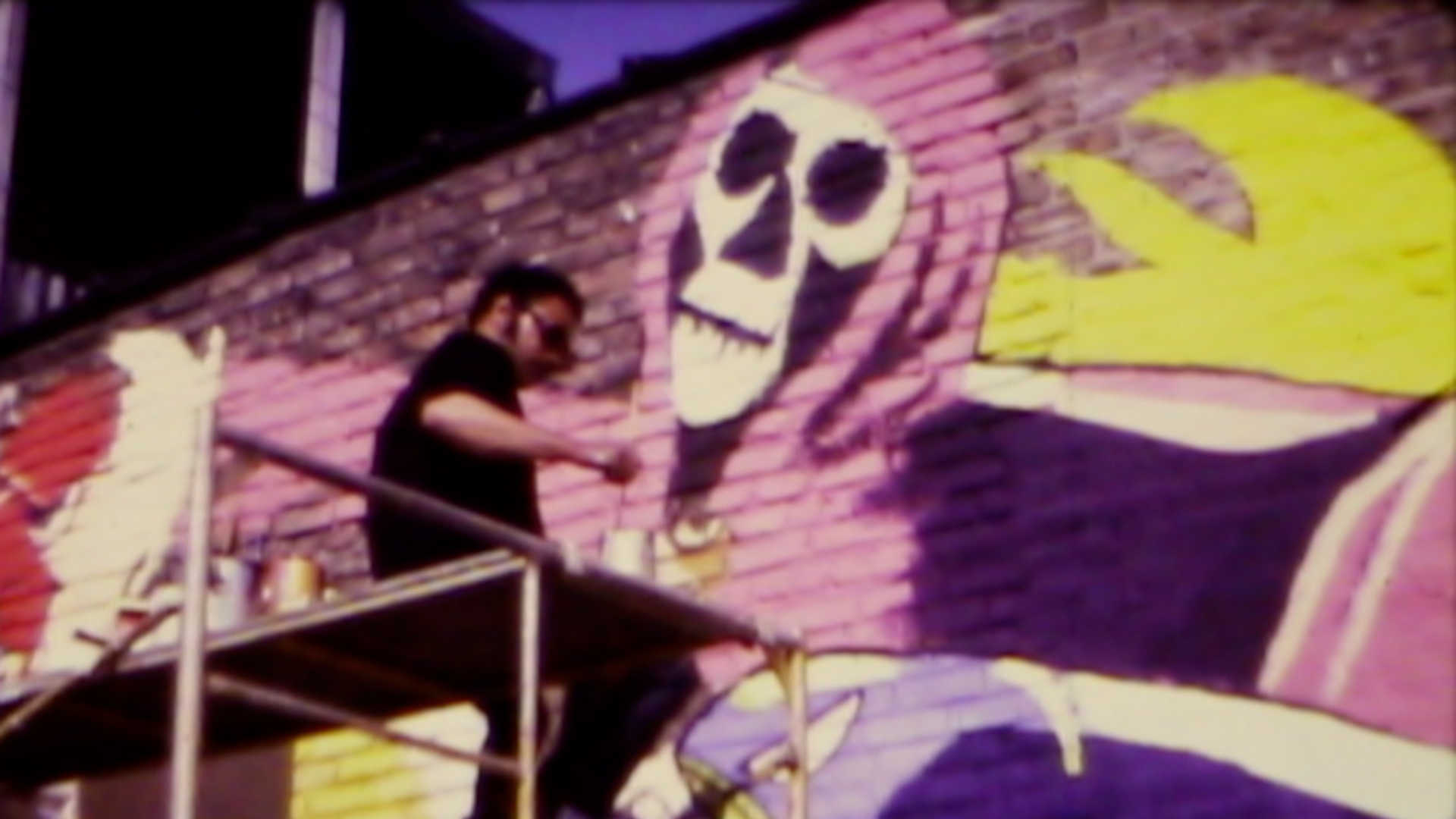 "The Mural Movement and the Black Arts Movement" focuses on murals in the early 1970s. The program begins with a ten-minute program of short films by painter Don McIlvaine, many of them emphasizing his West Side murals Into the Mainstream andBlack Man's Dilemma. Next, Kartemquin's film Viva La Causa (1974, 12 min.) documents a mural created by Ray Patlán in Pilsen with neighborhood children. Finally, recently rediscovered footage from the archives of the DuSable Museum of African American History, labeled simply "Murals Contemporary Art Gallery," documents the work of muralists painting in the Museum of Contemporary Art's galleries in the 1971 "Murals to the People" exhibition. Included is footage of William Walker's Wall of Love, which was installed at the SSCAC, where its fragments are still housed, as well as works by Mark Rogovin, John Pitman Weber, and Eugene "Eda" Wade.
Arlene Turner-Crawford is a Chicago-based artist committed to community and activism. She works in a range of media including painting, assemblage and collage, drawing, graphic design, and illustration. Her work informed by the works of AfriCOBRA artists and black classical music (jazz), as well as her own family, research, and meditation. Crawford earned her BS in education from Northern Illinois University and was the first African American to earn a MS in art education from Indiana University's Herron School of Art. Crawford has served on the Executive Board of the African American Arts Alliance, and was a founding member of the Sutherland Community Arts Initiative and Sapphire & Crystals, a collective of African American women artists. Crawford's work has been exhibited in Chicago at the Chicago Cultural Center, South Shore Cultural Center, African American Cultural Center at the University of Illinois at Chicago, Creative Arts Foundation and Malcolm X Community College President's Gallery, National Museum of Mexican Art, and at the Evanston Art Center, National Conference of Artist, Fundacao Cultural do Estoado de Bahia, Salvador, Brazil. She curated the 2012 exhibit AfriCOBRA: Art & Impact at the DuSable Museum of African American History.
Eugene "Eda" Wade is a painter and muralist. Born in Baton Rouge, Louisiana, he received his B.S. in Art Education from Southern University in 1964, and M.F.A. from Howard University in 1971. It was during his time at Howard that Eda began painting murals, working with William Walker on the Wall of Respect and the Wall of Truth and becoming an early member of the Chicago Mural Group. He was one of four muralists chosen by the Museum of Contemporary Art Chicago for its Murals for the People exhibition in 1971. In the same year he painted his extraordinary set of mural doors at Malcolm X College, inspired by ancient African and contemporary African American imagery. He has always been committed to making "people's art," and in addition to the MCA exhibition has participated in exhibitions at Southern University A&M College, Kennedy King College, Malcolm X College, Olive-Harvey College, and the DuSable Museum. Eda taught at Kennedy King College from 1979 until his retirement in 2005. Returning to Louisiana, he settled in Zachary, where he continues to teach Art Appreciation at Southern University and Baton Rouge Community College.
South Side Projections' film series Chicago's Black Arts Movement in Film is part of Art Design Chicago, an initiative of the Terra Foundation for American Art exploring Chicago's art and design legacy, with presenting partner The Richard H. Driehaus Foundation. Chicago's Black Arts Movement in Film is funded by the Terra Foundation for American Art. Learn more at artdesignchicago.org.