The Great Flood
Bill Morrison / 2013 / 80 min. / digital video
Blanc Gallery, 4445 S. King Dr.
Wednesday, October 12, 2016 at 7pm
Presented by South Side Projections and Blanc Gallery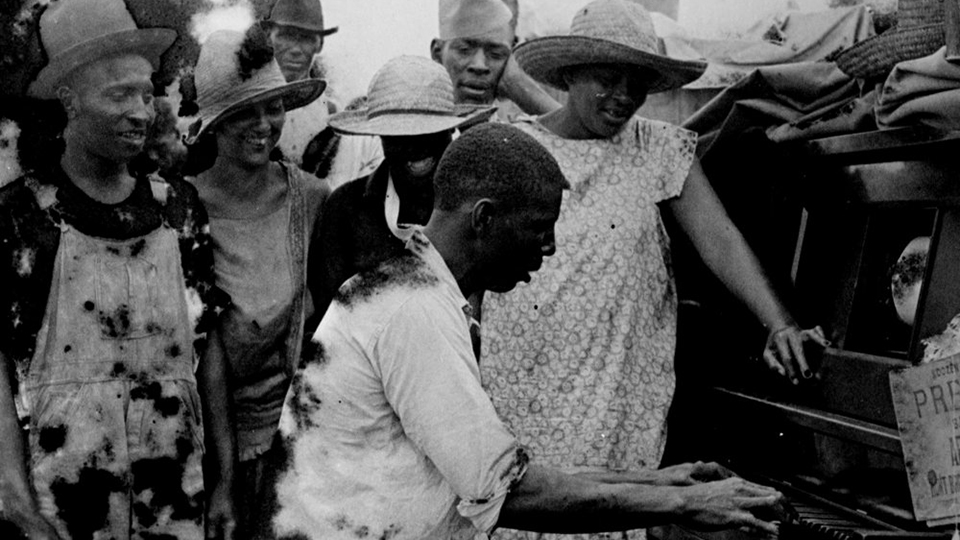 South Side Projections and Blanc Gallery present a special screening of Bill Morrison's The Great Flood in conjunction with an exhibition of work by artist David Geary that chronicles the experiences of African Americans' migration from the south to Chicago.
In The Great Flood, experimental filmmaker Bill Morrison and guitarist/composer Bill Frisell collaborate on an exploration of the Mississippi River Flood of 1927, the most destructive river flood in American history. The flood was one of the forces behind the Great Migration of African Americans to the north, as southern sharecroppers left plantation life for northern cities, bringing jazz and the blues with them. In 2011, as the river flooded to levels unseen since 1927, Morrison and Frisell followed the route north to Chicago; Morrison scoured film archives for footage of the flood, all of which is on volatile nitrate stock that has deteriorated. To match the footage, Frisell draws upon his wide musical palette informed by American roots music but uniquely his own. He's joined on the score by Tony Scherr on bass, Kenny Wollesen on drums, and Ron Miles on trumpet. The New York Times called the film "visual poetry, sublime." (Bill Morrison, 2013, 80 min., Blu-Ray, courtesy of Icarus Films)
The exhibition runs from August 5 through October 29, 2016. For more information on the exhibition and additional programming, visit blancchicago.com.
Blanc Gallery's mission is to engage Chicagoans through the arts, igniting dialogue on issues of social significance. It is a center for ideas and a meeting place for people, with the primary objective of cultivating a culture of conversation. The gallery also fosters a wide-reaching exchange of ideas through its multi-faceted approach by hosting diverse events for the public such as exhibitions, artist talks, and panel discussions.