At the River I Stand
David Appleby, Allison Graham, & Steven Ross / 1993 / USA / 58 min. / digital projection
Reva and David Logan Center for the Arts, 915 E. 60th St.
Thursday, August 25, 2016 at 7pm
Post-screening discussion with art historian Huey Copeland (Northwestern)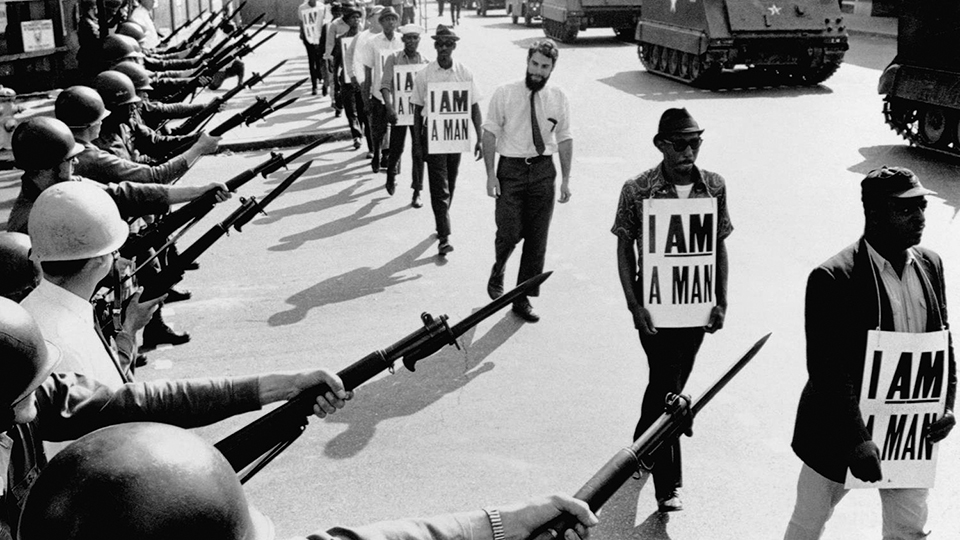 At the River I Stand skillfully reconstructs the two eventful months that transformed a strike by Memphis sanitation workers into a national conflagration, and disentangles the complex historical forces that came together with the inevitability of tragedy at the death of Dr. Martin Luther King Jr. The film brings into sharp relief issues that have only become more urgent in the intervening years: the connection between economic and civil rights, debates over strategies for change, the demand for full inclusion of African Americans in American life and the fight for dignity for public employees and all working people. (David Appleby, Allison Graham, and Steven Ross, 1993, 58 min., DVD projection)
About Huey Copeland
Dr. Copeland is an art historian, administrator, teacher, critic, and curator based in Chicago, IL. He is currently Associate Dean for Academic Affairs in The Graduate School and Associate Professor of Art History at Northwestern University. His writing focuses on modern and contemporary art, with an emphasis on articulations of blackness in the Western visual field. A Contributing Editor of Artforum, Copeland has also published in Art Journal, Callaloo, Camera Obscura, Nka, October, Parkett, Qui Parle, Representations, and Small Axe, as well as in numerous international exhibition catalogues and edited volumes, such as the award-winning Modern Women: Women Artists at the Museum of Modern Art. Most notable among his previous publications is the book Bound to Appear: Art, Slavery, and the Site of Blackness in Multicultural America (2013).​
About the Series
The spread of "right to work" laws and the Fight for $15 movement have brought renewed focus to labor issues. Drawing on the energy of these and other current struggles in the workplace, Alternative Histories of Labor aims to expand on the dominant narrative of labor movements as mostly white and mostly male. These six film screenings and discussions highlight the contributions of women and racial/ethnic minorities to US labor movements.
Sponsors
The series is sponsored by South Side Projections; Illinois Humanities, the National Endowment for the Humanities, and the Illinois General Assembly; The MacArthur Funds for Arts and Culture at The Richard H. Driehaus Foundation; SEIU Healthcare Illinois Indiana; Black Cinema House; Contratiempo; Aguijón Theater; and the Center for the Study of Race, Politics and Culture, Reva and David Logan Center for the Arts, and Center for the Study of Gender and Sexuality at the University of Chicago.