When Harold Washington Beat the Machine
Black Cinema House, 7200 S. Kimbark Ave.
Sunday, February 15, 2015 at 4pm
In conversation: Javier Vargas, who worked on Running with the Mayor as a student; Bill Stamets, the director of Chicago Politics: A Theatre of Power; and John Blanton, videographer of Why Get Involved.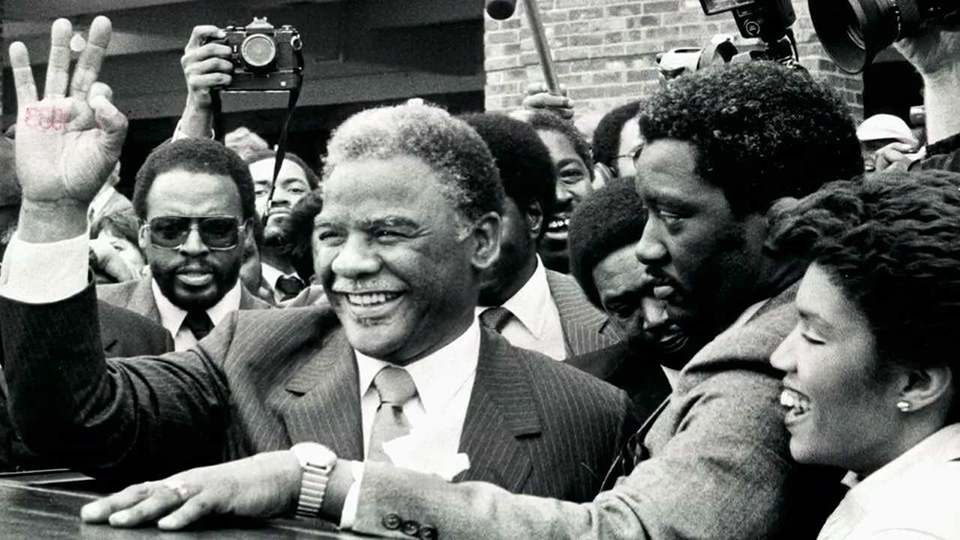 As the 2015 Chicago mayoral election approaches, pitting a seemingly unbeatable incumbent against a variety of underdog challengers, join us and our partners at the Black Cinema House for a look at another mayoral election, more than thirty years ago: Harold Washington's improbable election to become the first African American mayor of Chicago. Three rarely screened films about that election and Washington's brief tenure as mayor explore the role of racism and entrenched Democratic machine power in that historic era.
In 1983, reluctant outsider candidate Harold Washington achieved the impossible when he defeated incumbent mayor Jane Byrne in the Democratic primary, a victory that relied on record numbers of new African American voters and a two-way split of the white vote between Byrne and Richard M. Daley. Battling entrenched racism and the Democratic machine's unwillingness to concede power in the general election, Washington went on to win, becoming the first African American mayor of Chicago.
These three radically different locally made films survey the election, Washington's tenure as mayor, and his fight to change the way the city was governed. Running with the Mayor (Community TV Network, 1984, 12 min., video projection), created by Hispanic students of Chicago's Community TV Network, follows Washington on the campaign trail, asking whether Washington will be a force for change for Hispanic as well as African American residents. Why Get Involved (Jean Young, 1983, 30 min., video projection), shot on election night as Washington and his supporters anxiously awaited the results, is a star-studded who's-who of African American celebrities and power brokers, including Bill Cosby, Jesse Jackson, and Ben Vereen; the film asks these and other supporters why regular Chicagoans should get involved in Washington's crusade. Finally, Bill Stamets's new 40-minute edit (with additional footage not included in the original) of his 1987 film Chicago Politics: A Theatre of Power focuses on the two elections that Washington won, capturing Washington's unforgettable way with words and the context of 1980s racism. Also included are rarities from the Media Burn Independent Video Archive, including selected campaigns ads that directly confront the racism implied by the "before it's too late" motto of his Republican challenger, as well as Washington's appearance on The Bozo Show.
Videos courtesy of Media Burn Independent Video Archive, Community Television Network, Jean Young, Bill Stamets, and Floyd Webb.