The Shepherd of the Night Flock
1975 / 56 min. / 16mm
University Church, 5655 S. University Ave.
Wednesday, August 12, 2015 at 7pm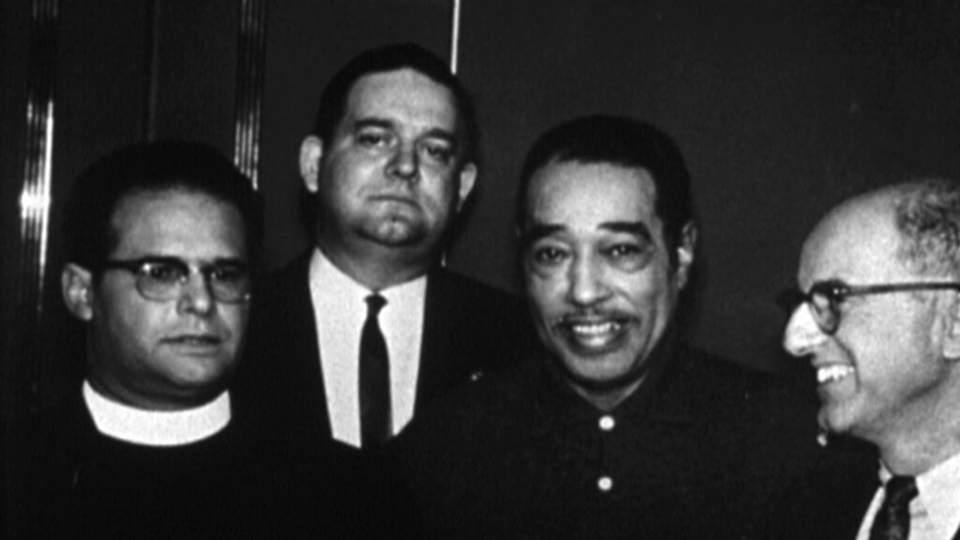 The Shepherd of the Night Flock (George C. Stoney, James Brown, Paul Barnes; 1975, 56 min., 16mm) is a documentary about Reverend John Garcia Gensel's jazz ministry at St. Peter's Lutheran Church in Manhattan. Gensel had started the Jazz Vespers for those musicians of his growing night ministry who couldn't make it to Sunday morning service after playing late Saturday night gigs. It became the church home for many musicians including Zoot Sims, Billy Strayhorn, and Billy Taylor, and the legendary jazz great Duke Ellington, who was a frequent worshipper. He called Pastor Gensel "the shepherd who watches over the night flock" and wrote a hymn with that title, which is how the film was named. The film contains footage of Ellington's last concert and Father Gensel's eulogy for him at the Cathedral of St. John the Divine.
The great jazz writer Nat Hentoff wrote of Gensel: "When Pastor John Garcia Gensel entered a jazz club, as he very often did, he was warmly welcomed by the musicians—and by those of the laity who had come to know him as an integral part of the jazz scene. Pastor Gensel was on the staff of Saint Peter's Church in New York, but he had a special beat, as journalists say. His ministry was to serve the jazz community. He presided at memorial services for jazz musicians who had finished their last chorus. And early every Sunday evening, he was there to present—and manifestly enjoy—jazz vesper services."
16mm print courtesy of the Reserve Film and Video Collection of The New York Public Library for the Performing Arts. Shepherd of the Night Flock has been preserved with funding from the New York State Library, Division of Library Development.