Logan Center for the Arts, 915 E. 60th St.
Sunday, September 15, 2015 at 5pm
Presented by South Side Projections and the Reva and David Logan Center for the Arts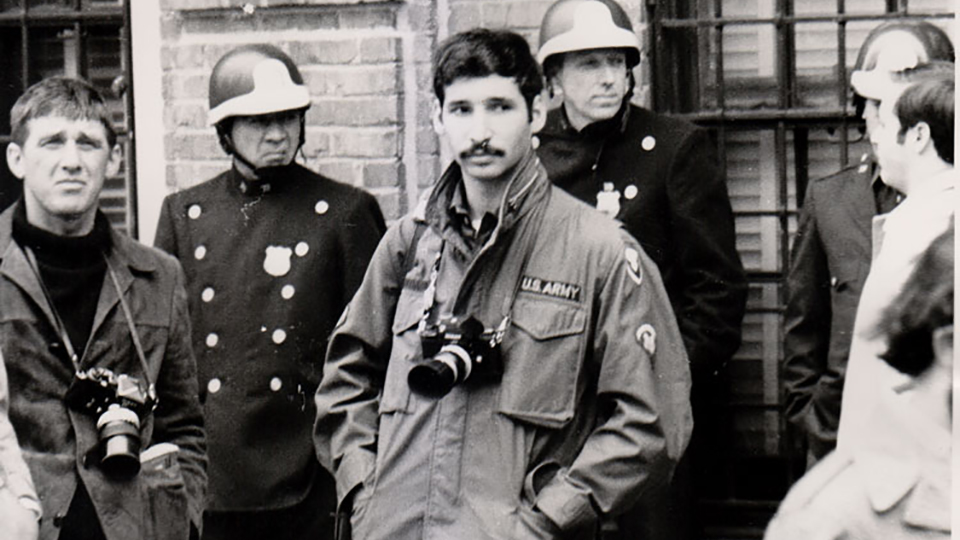 During much of the twentieth century, large cities in the United States employed police intelligence units that monitored, harassed, and infiltrated political and social groups suspected of dissent. Informally known as Red Squads, these units were originally formed to keep tabs on suspected Communists, but their purview quickly extended to anyone thought to be subversive. Their activities intensified during the domestic upheaval of the 1960s as police joined forces with the U.S. government to track and disrupt civil rights groups. Red Squads no longer exist, but domestic spying by government actors has continued, with new laws such as the PATRIOT Act and new technology making it easier for the government to monitor and harass those who voice dissent.
This program will examine domestic surveillance through two films about police spying during the 1960s and 1970s, followed by a wide-ranging discussion with people who have been spied on and harassed by the police and federal government from the 1960s through the post-9/11 era.
Films
April 27 (Chicago Newsreel, 1968, 10 min., video projection) documents a Chicago peace march turned violent by an unprovoked attack by police less than a month after the assassination of Martin Luther King Jr. and just four months before the police riot at the 1968 Democratic National Convention. Red Squad (Steven Fischler, Joel Sucher, Howard Blatt, and Francis Freedland, 1972, 45 min., 16mm print) documents the surveillance activities of the New York City Police Department's Bureau of Special Services, known as the Red Squad. When the filmmakers, NYU students enrolled in Martin Scorsese's production class, began to photograph people they saw photographing others at political events, they became targets of police and FBI harassment and arrest themselves. They in turn documented their harassers, leading Vincent Canby to remark in his New York Times review that the film becomes "funny, in the way that two spies are funny when they suddenly discover they're spying on each other. Yet it's dead serious, the record of when four young filmmakers decide to run their own surveillance on the surveillants."
Discussion
Discussants will include civil rights attorney Matthew Piers, filmmaker Peter Kuttner, and activist Micki Leaner, who were involved in the Alliance to End Repression et al. v. City of Chicago et al. civil suit whose 1982 settlement expressly prohibited political harassment and spying by the City of Chicago. Also joining us will be Hatem Abudayyeh, director of the Arab American Action Network, who will discuss government harassment of antiwar and Palestinian rights activists. The moderator will be art historian Rebecca Zorach, who has conducted research on police and FBI surveillance of the Black Arts Movement.
Red Squad print courtesy of the Reserve Film and Video Collection of The New York Public Library for the Performing Arts, preserved with funding from the Carnegie Corporation of New York. April 27 DVD courtesy of Kartemquin Films.