Monkey King at Spider Cave
Logan Center for the Arts, 915 E. 60th St.
Saturday, January 24, 2015 at 2pm
Presented by South Side Projections and the Reva and David Logan Center for the Arts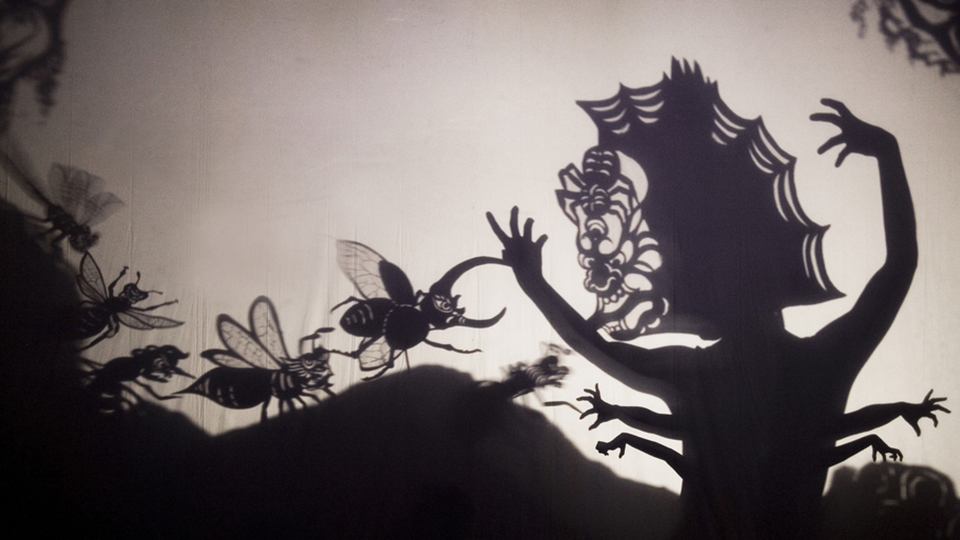 As part of the January 24 Family Festival at the Logan Center for the Arts, we're showing a film of a live puppet production based on part of the sixteenth-century Chinese epic Journey to the West. The production, by San Francisco's ShadowLight Theater, brought together American and Taiwanese artists to present Monkey King at Spider Cave, a live theater experience like no other. Combining shadow puppets with live actors and music, the performance is a multimedia treat for all ages.
We'll be showing a 48-minute filmed version of their live performance, which shows viewers the puppet show and occasional glimpses backstage. It's in subtitled Mandarin with English narration to help younger viewers keep up with the story. Because many of the viewers will be too young to read the subtitles themselves, we'll be using a voice actor to read the subtitles aloud.
The story of a Buddhist pilgrim who is tasked by the Buddha to travel west to India to fetch sacred scriptures back to China, Journey to the West is based on the actual pilgrimage of a seventh-century Buddhist monk. Journey added elements of folklore and magic, including the beloved figures of Zhu Bajie (Pig) and Sun Wukong (Monkey King). The pilgrim's journey is relentlessly endangered by mythical demons and monsters, including demonic spiders and an evil alchemist.