Camera on Chicago
with 45rpm score by Steve Krakow
Logan Center for the Arts, 915 E. 60th St.
Saturday, May 10, 2014 at 4pm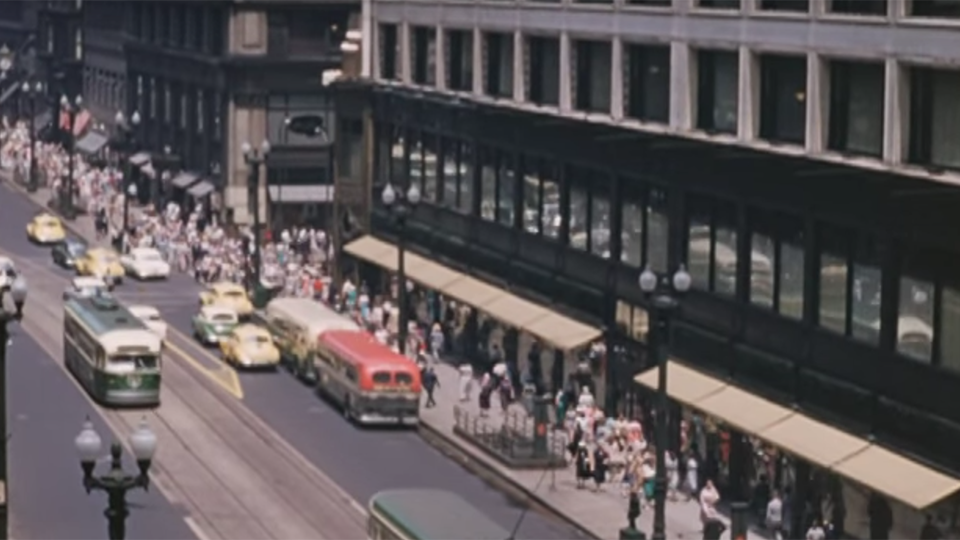 Let's Get Working: Chicago Celebrates Studs Terkel (May 9-11, 2014) is a three-day festival at the University of Chicago's Logan Center for the Arts featuring concerts, discussions, listening stations, performances, screenings, soapbox debates, and more. South Side Projections is honored to be part of this event.
Chicago-based amateur filmmaker Warren Thompson's Camera on Chicago, filmed over many years, documents the city's intense postwar growth. According to the Chicago Film Archives, which maintains an archive of Thompson's work, it "is a continuing effort to record some of the events, characteristics, problems, and glories of Chicago. Footage includes architecture, sculpture, housing, Lake Michigan, Chinatown, parades, Maxwell Street Market, and the people of Chicago. Thompson captures life and culture from the most affluent to the poverty stricken."
For this event, Steve Krakow, creator of the "Secret History of Chicago Music" series in the Chicago Reader, will curate a soundtrack of Chicago-made music for this silent film, using songs that alternately complement and comment on Thompson's shots.