The Popovich Brothers of South Chicago
Jill Godmilow / 1977 / USA / 60 min.
Southside Hub of Production
5638 S. Woodlawn Ave.
Fri, Mar 9, 7pm
Presented by South Side Projections and Facets Multi-Media
Post-screening discussion featuring director Jill Godmilow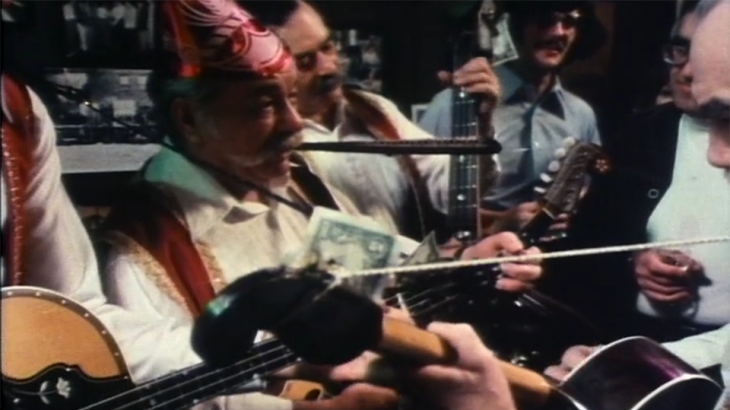 South Side Projections and Facets Multi-Media celebrate Chicago history with a screening of Jill Godmilow's film The Popovich Brothers of South Chicago (1977, 60 min., DVD projection). The story of four Serbian-American brothers who played traditional Serbian music together for more than fifty years, the film is also an examination of the struggle to maintain family and ethnic ties through the generations. Godmilow will attend the screening for an introduction, a Q&A, and to catch up with old friends.
The film introduces us to the Popvich Brothers Tamburitza Orchestra on the eve of its fiftieth anniversary. Eli, Adam, Marko, and Ted Popovich, the sons of a Serbian coal miner, had been entertaining the large Serbian community in South Chicago in the evenings and working jobs in the steel industry during the day. The band's music is the glue that helps hold the family and community together, but it's threatened with the tragic death of Marko, which leads his heartbroken brothers to consider retiring.
Roger Ebert praised the film as being "filled with songs and life, with the lilting, driving, and sometimes sad music of Serbia," and in New York Magazine, David Denby wrote, "The film affirms the power of music in a way that can't be done in a dozen books on folk culture, and one is left exhilarated, moved and extremely grateful."
The film is part of Facets Multi-Media's new Reel Chicago series of DVDs, produced by Susan Doll, which celebrates Chicago-based documentaries.