Typeface
2009 / digital video
Southside Hub of Production, 5638 S. Woodlawn Ave.
Saturday, December 3, 2011 at 7pm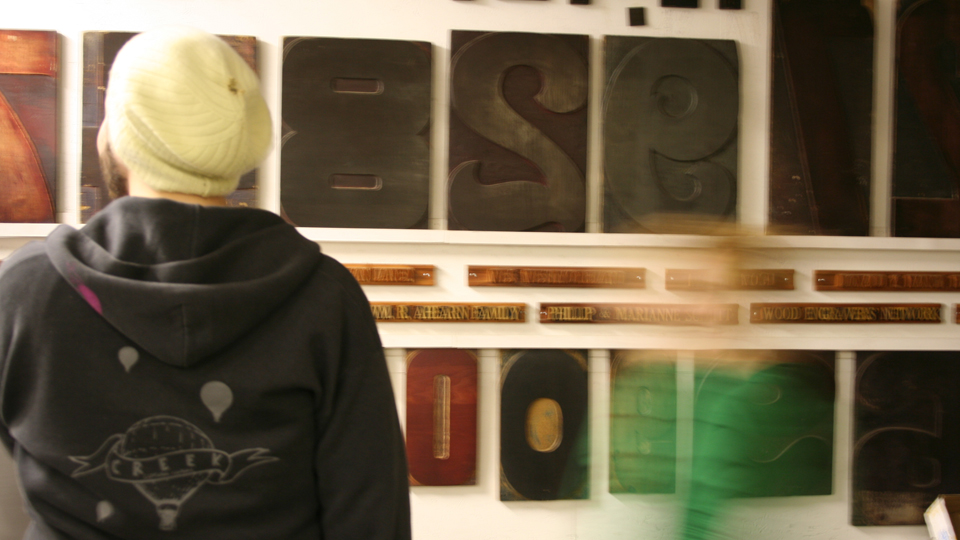 As part of the continuing celebration of the 45th anniversary of Kartemquin Films, South Side Projections and the Southside Hub of Production are proud to present a screening of the documentary Typeface (2009, Justine Nagan, DVD projection) at the Southside Hub of Production, a new arts and cultural center in the heart of Hyde Park.
In a time when people can carry computers in their pockets and watch TV while walking down the street, TYPEFACE dares to explore the twilight of an analog craft that is freshly inspiring artists in a digital age. The Hamilton Wood Type Museum in Two Rivers, WI personifies cultural preservation, rural re-birth and the lineage of American graphic design. At Hamilton, international artisans meet retired craftsmen and together navigate the convergence of modern design and traditional technique. But the Museum's days may be numbered. What is the responsibility of artists and historians to preserve a dying craft? How can rural towns survive in a shifting industrial marketplace where big-box retailers are king?
Following the film is a roundtable discussion of the history and future of letterpress. Respondents include director Justine Nagan, April Sheridan of Columbia College's Center for Book and Paper Arts, Martha Chiplis of the School of the Art Institute of Chicago, Celene Aubrey of the Lillstreet Art Center, radical printer and activist Dan S. Wang, and other artists.
The screening and roundtable kick off SHOP's month-long "Reproduce+Ability" exhibition, which emphasizes reproducible art and the techniques used to make it. In addition to the letterpress show curated by April Sheridan of Columbia College's Center for Book and Paper Arts, there will be a series of events featuring artists working in reproducible mediums. Animator Vicky Yen, silkscreen printer Clare Fentress, mixtape artist DJ Curt Spins, knitter Lindsay Obermeyer, and woodworker John Preus are just a few of the artists who will conduct workshops, do readings, and/or perform their work.